Bouygues and Kizeo are working together to digitize the management of Bouygues' activities in public works. Documents such as security visits or reception sheet are now generated through digital forms. For instance, those forms are used for a construction site called EOLE, which is an extension of one of the main lines of Paris Subway. Bouygues is in charge of digging a six-kilometer tunnel and constructing a new station in the capital.

Alexander, intern at Bouygues, joined our team for a few days as part of this digitization project.
Benoît Raymond Sales Manager

Alexander, intern at Bouygues Construction.
« My name is Alexander Barusta, I am 19 years-old. I enjoy all the good things in life, I like eating, listening to music, playing video games and exercising. I am particularly found of parkour and skateboarding.
During my high school years, I studied science and then I chose to specialize in IT development. I am currently studying my second year in ETNA, a school that belongs to the IONIS group. I have the chance to both study and acquire professional experience since my degree involves a part time position in a company.
I carried out a first six-month internship at Bouygues Construction. I worked on the intranet of the Health and Security Department and was in charge of digitizing the paper-based documents with Kizeo Forms. Now that my first assignment is done, I would like to join another branch of Bouygues to diversify my professional experiences.
First step: Developing a connector with Kizeo Forms API.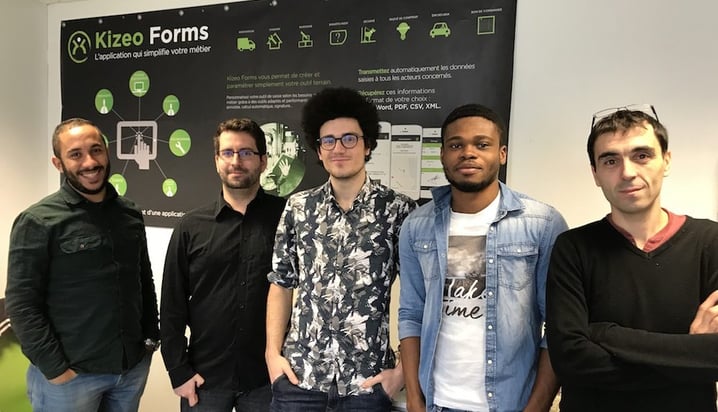 During this internship, Bouygues allowed me to come and work at Kizeo for three days in order to develop the API that will automate the external lists update in Kizeo Forms. I was warmly welcomed within the team. I work along with the Technical staff to install the API to update automatically the external lists. I was happy to see that there is a great atmosphere and that all departments of Kizeo work closely together. Furthermore, I learned a lot on a technical level during these three days, since the developers were always eager to answer all my questions. I was also pleased to learn how a start-up works from inside.
I really appreciated my stay and the atmosphere among the team. If I was asked to do it again, I will accept without hesitating. »
Alexander Barusta
Intern at Bouygues Construction