Urban pest control and the sanitisation of spaces are essential tasks for hygiene and health. But they are also tasks that generate a significant amount of paperwork.
Traditionally, pest control companies kept track of the fumigation schedule for their clients, fumigation certificates, and other reports manually. But this created problems such as lost paperwork and slow certificates for clients. Problems that cost a lot of time to solve and affect the growth of the company.
Pest control and fumigation certificates are a clear example of the benefits that digitalisation brings to this sector. These certificates must be filled in with accurate information and delivered to the customer as soon as possible. Kizeo Forms facilitates and automates this process and helps in overall pest management.
Elements to be included in digital pest control certificates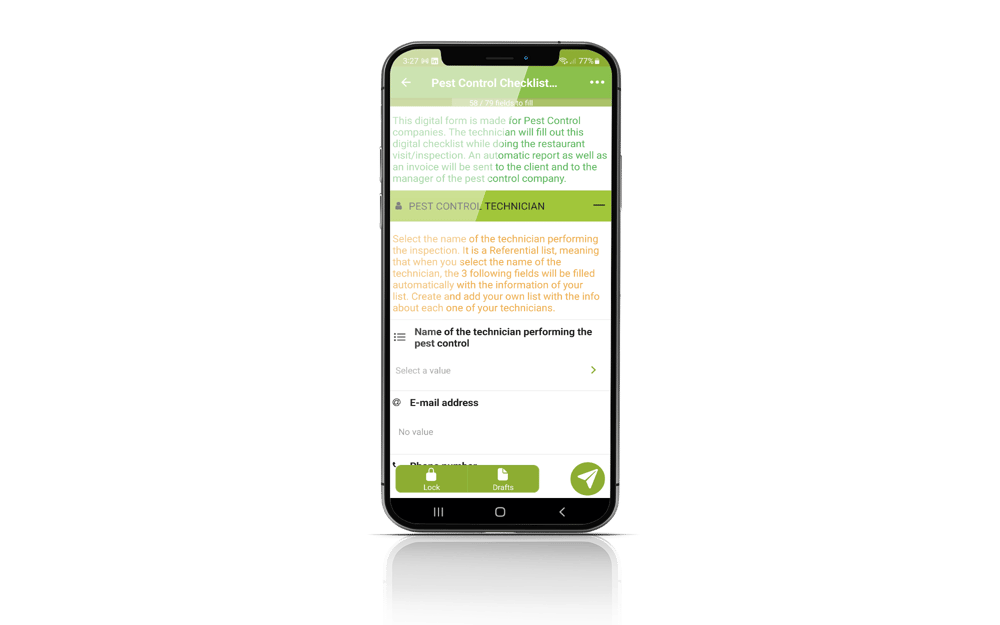 Every time a client contracts a fumigation service, it is important to take into account that a certificate will be issued. The information that must be included in each certificate may vary slightly depending on the regulations of each country, but the general elements are:
Pests controlled
Pest activity
Products used (pest control treatments, registration, the active ingredient, dosage....)
Methodology used
Recommendations and Physical Preventive Measures
Producing fumigation certificates manually means spending hours reviewing the documentation provided by the technician, transferring it to the company's official format, and then delivering it to the client.
A digital certificate, on the other hand, can be generated automatically.
Tips on how to achieve digital fumigation certificates
You can enrich a digital pest control and fumigation certificate with photographs, plans with the location of physical traps and the digital signature of the technician who carried out the fumigation. This will enable you to provide the optimum inspection service to your clients.
Make sure there are no errors in the document by integrating the form filled out by the technician with a database containing the different chemicals and dosages of use.
Digitise the entire pest control process with Kizeo Forms
Digitising certificates is just the first step in digitising your entire pest control business.
Digitisation allows you to automate the sending of activity reports by email, which will be received by staff in the office and customers. You can customise reports to:
Manage your inventory.
Provide price quotations.
Assess risks in the field.
Deliver prevention suggestions to your customers.
Facilitate compliance with pest control programmes.
Benefits of digitisation for pest control and fumigation companies
Increased productivity: waiting times for a document to arrive and time spent on menial tasks are going to be reduced. Our customers save 2 hours per day on average. The company gains agility in its workflow, allowing it to serve more customers and think more strategically about the future.
Customer retention: the customer experience will be much more satisfactory, as the service will be faster and more convenient. Also, improve after-sales service, you can send automated reports to your customers to let them know how the pest control programme is progressing, results and corrective actions.
Improve internal communication: real-time data transfer makes communication between field and office staff much faster, which benefits everyone.
Who will benefit from implementing Kizeo Forms in your company?
Field technicians: Kizeo Forms will make their work easier with forms that are easy to fill in and they will not have to deal with paperwork that they have to hand in at the end of their shift in the office. They will be able to back up their work with photos and ask customers for digital signatures.
Operations staff: they will be able to deliver faster solutions to customers and automate the delivery of customised reports.
Executive staff: they will be able to centralise the entire operation in Kizeo Forms, extract the information they need and make strategic decisions with greater security.
Clients: they will have all the information they need about the services they have contracted in their email.