https://www.theworldcounts.com/challenges/consumption/other-products/environmental-impact-of-paper
The link above has a counter for how many tons of paper are produced in the world - there is a link to add the counter to the website, which would look really cool on this page.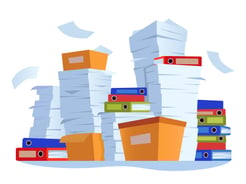 It is widely known that the environmental impacts of paper production are not just related to paper waste. Paper manufacturing requires deforestation, the use of huge amounts of energy and water, and produces significant air pollution. You would assume that, with an increase in digitisation, the demand for paper is decreasing. But you would be wrong - according to 'The World Counts', "the demand for paper is expected to double between 2005 and 2030." The global annual production of paper and cardboard is 420m tonnes, which corresponds to two pieces of paper for everyone on earth every single hour. Paper consumption is still at an all-time high despite what you may think. Is this still the case in offices?
We may be in a digital age, yet, by digging a little deeper, paper consumption statistics reveal that the use of paper is still prevalent in businesses with paper documents making up much of our business processes. The pulp and paper industry accounts for between 33-40% of all industrial wood traded globally and is the third-largest air, water and land polluter amongst all industries in Canada and the U.S. What exactly is the impact of paper on the environment? During the production of paper toxic gases are emitted from factories - ammonia, carbon monoxide, nitrogen oxide, nitrates, mercury, benzene, methanol and chloroform. Three of these gases; nitrogen dioxide, sulphur dioxide and carbon dioxide cause acid rain. This toxic rain impacts freshwater, forests and soil - it negatively impacts the production of crops and can be harmful to wildlife. And of course, carbon dioxide leads to global warming. Add in transportation of paper, and of course masses of deforestation and you can see why the production of paper has such a negative impact on the environment.
All in all, it isn't until we stop and consider the true impact that paper has on our world, that it becomes clear we need to do something to reduce paper usage and improve our carbon footprint. There are many small steps that you can make to reduce use of paper products in your business. We're not just talking about printing documents - does your team use notebooks or produce company brochures and business cards? Here's some quick wins you can make to reduce paper usage, you might even be able to make some space in your office and get rid of the odd filing cabinet or two!
Digital business cards
There are many online business card options now that will save on paper usage and give you more space in your wallet when attending events. Gone are the days when you lose someone's contact details, as their card disappeared. Create your own digital business card and get people to scan and save your details, or your LinkedIn profile, instantly.
Store documents in electronic archives
Filing cabinets take up space and aren't secure. Instead of printing documents, store them online in a secure archive such as Dropbox or Google Drive.
Use iPads and online notes tools
Many people love a paper to do list, the satisfaction of crossing something off when complete is like nothing else. But changing your mindset and keeping your lists in an iPad, notebook or on your laptop on something like OneNote will significantly reduce your paper use. Believe it or not, you'll actually be more productive - how much time do you spend re-writing lists that could be copied and pasted digitally?
Move paper processes and forms to digital
Are you still using paper to carry out business processes? Perhaps you complete your stock take at a cafe or shop using paper, or you ask office workers to complete expenses and timesheets in hard copy. By making the switch to digital you'll be on your way to digital transformation.
Making a move from paper forms to digital sounds like a daunting task when you're so familiar with historic processes. But having a technology partner that you can rely on will set you up for long term success. This is where Kizeo Forms comes in.
What are the environmental and business benefits of using Kizeo Forms?
There are many huge benefits to using Kizeo Forms, we've summarised just a few environmental and business benefits here.
By reducing your paper consumption you will reduce solid waste, which is the single biggest landfill item and pollutes water (municipal solid waste occupies 17% of the world's landfill space.)
You'll reduce the need for transportation of physical documents thereby reducing your business carbon footprint.
Online forms will improve the accuracy and security of your data.
To start the year right and work towards saving our planet, go paperless today.