Christophe Auguste
Safety Engineer
GCC
>> Test Kizeo Forms for free!
Can you tell us more about GCC?
C. Auguste: With no less than 45 operating entities spread throughout France, as well as in Switzerland, Morocco and Côte d'Ivoire, the GCC group has nearly 2,700 employees. In less than 20 years, we have succeeded in becoming one of the top 10 construction companies, thanks to an organization based on the commitment and autonomy of our senior executives. Composed of agencies and subsidiaries, GCC's structure makes it possible to combine:
Field knowledge,

Technical proficiency,

And a clear insight into our customers' expectations
With an estimated turnover of €1 billion in 2018, GCC is a robust, ambitious and dedicated group.
Could you elaborate on the kind of problem(s) you were experiencing in your business before using Kizeo Forms?
C. Auguste: Until we used Kizeo Forms, all the safety engineers wrote their site visit reports retrospectively. They spent at least half a day a week on this task. We wanted to enhance this process in order to be able to devote ourselves fully to facilitating risk prevention. To achieve this, we had to reduce the administrative burden on our teams for certain tasks. In this context, the use of a flexible digital tool was of paramount importance to improve our safety results. For us, it was a question of finding a tool capable of simplifying the daily life of the Safety team so that it could concentrate on fostering safety within the GCC Group.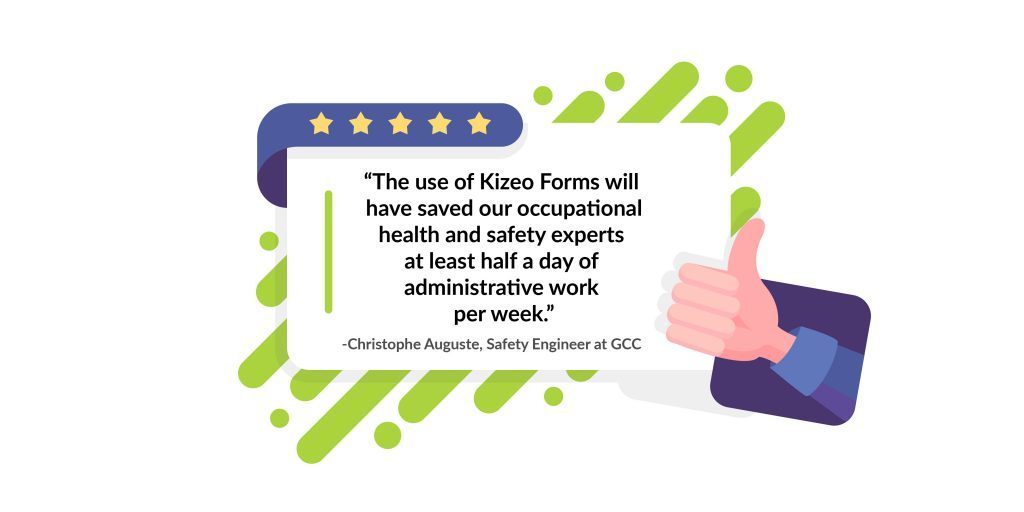 Was it easy to promote the use of mobile forms in your company?
C. Auguste: the transition from paper to automatic and digital reporting was done without any hassle! Today, this field reporting system is highly appreciated by all members of the Safety department. Noting the ease of use and success of the Kizeo Forms application within the safety department, we decided during our : " Prévention Groupe 2018" week to deploy a " risk hunting" tool on the construction sites. This tool has been retained and is used every week by our supervisors and companions to:
Correct any discrepancies observed on the worksites with our safety rules,

Facilitate risk prevention.
Do you use Kizeo Forms frequently in your company?
C. Auguste: the Kizeo Forms application is used daily on our sites, by the safety department through its audits and site visit reports and by our staff who regularly conduct risk hunts. A little over 300 employees use the Kizeo Forms application every day.
What do you think Kizeo Forms has brought to your company?
C. Auguste: the use of Kizeo Forms will have saved our occupational health and safety experts at least half a day of administrative work per week. The reduction in the time required to write site visit reports has also enabled OSH staff to improve their on-site availability and, as a result, improve the support they provide to construction teams. The safety department was pleasantly surprised by the commitment of all its agencies and subsidiaries during the "Group Prevention Week 2018". We had noticed a participation rate of over 80% among all our entities. In just one week, we have as a group:
carried out more than 440 risk hunts,

identified and corrected more than 1,900 risk situations affecting our operations.
How did you decide to use Kizeo Forms?
C. Auguste: Kizeo Forms was selected by comparing the different digital tools available in the market. For my part, its simplicity of configuration, its adaptability and its price appealed to me.
In your opinion, how could Kizeo Forms be improved?
C. Auguste: It would be nice to have a display option that allows you not to systematically display the elements in list mode, it would also be nice to have them side by side. Finally, improving the photo editing tool would be a plus. For example, I would like, to be able to add a circle on my photos and change its diameter according to what I want to highlight.
What is your preferred option on Kizeo Forms?
C. Auguste: The most used and important option is the photo function.
-Christophe Auguste