Kevin Grover
Edmonton, Alberta, Canada
Tell us more about your company
Stantec is a 23,000 person multidisciplinary AEC firm with 400 offices worldwide. We're designers, engineers, scientists, and project managers, innovating together at the intersection of community, creativity, and client relationships. Balancing these priorities results in projects that advance the quality of life in communities across the globe.
Why did you want to switch to digital forms?
To become more efficient, minimize waste, and show increased value to our staff and clients.
How do you use Kizeo Forms in your company?
Kizeo Forms is used across multiple business lines for field data collection for safety forms, inspections, mileage logs, and photo inventories.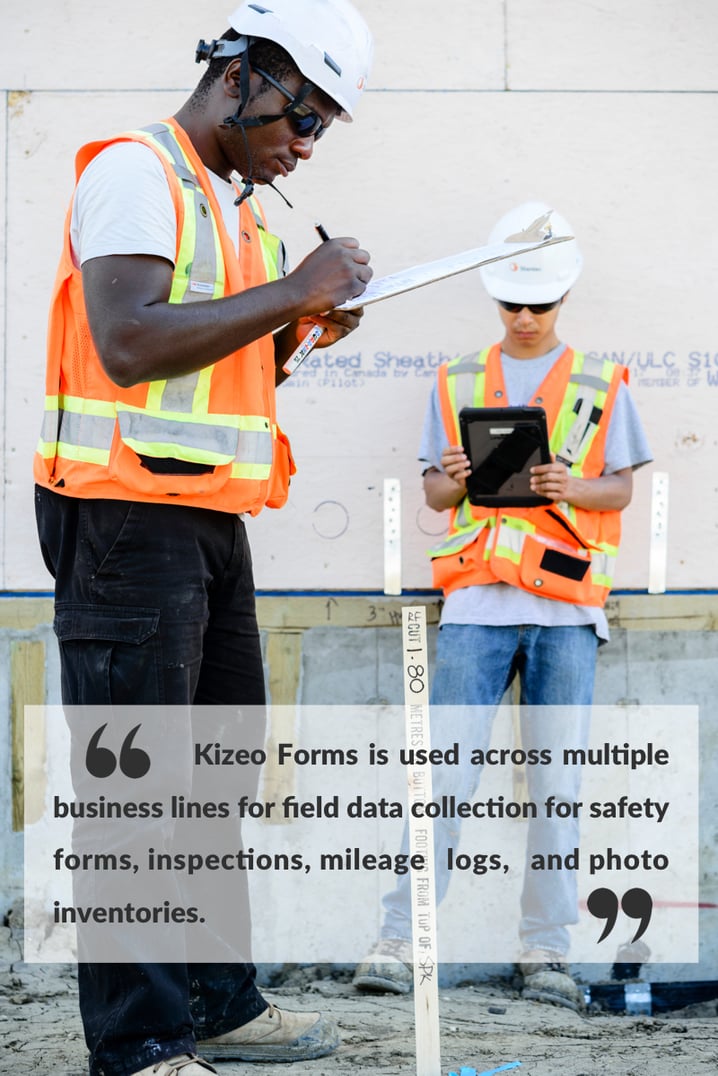 How does Kizeo Forms make your job easier?
Kizeo allows us to create multiple forms for specific users to meet their data needs. We don't need multiple or custom applications to do this anymore, and Kizeo Forms gives us more flexibility than a static PDF form does.
What is your opinion on the following topics?
Learning how to use Kizeo Forms: Kizeo Forms is very easy to pick up from the user level, and also allows for easy form creation and customization. Some of the customization of the form itself can take a bit more effort, but gives a lot of flexibility.
The general use of the platform (settings and options): Lots of option allowing for us to customize as needed.
The creation of new forms: It is very easy to customize new forms.
Using the App: The app works really well and much more stable than previous. We primarily use IOS, and is a nice clean interface. It would be nice to be able to customize the layout of the fields a bit further on the app however. Such as making less whitespace, having fields in a column view (which can be done now, but is a pain since it has to be set to allow multiple fields per line), changing text sizes easier, etc.
The data storage: This part has been great and stable overall. However, with our IT group being more security focused, having the ability to connect to our own cloud infrastructure would be an interesting solution for us.
What changes did you notice with Kizeo Forms?
There have been a lot of changes this past year, with the most critical to us being the stability of it. We can do larger forms with more data now, and haven't had issues like in the past.
Anything else you would like to add?
The ability to preserve the geotag info directly in the EXIF of the images.
Having tabs in a form to better organize data entry (instead of just a separate to organize and keep scrolling down in a long form, have tabs at the top that you can switch between and have "next" and "back" buttons to flip between to better organize data entry.
Having the ability to link forms. This would be great since for a project, we may have a safety form as well as an inspection form, but they have some common data that would be entered in both (ie. Project name, number, etc.). Instead of entering it again, have the ability to create a "Form within a form". This was we could create the inspection form, but then also create the safety form as well and not have to reenter data.
The Kizeo Team « Thank you for those suggestions Kevin! We truly appreciate to have honest feedbacks from both field users and admin. It helps us improving continuously Kizeo Forms.»
Which feature or element do you like the most?
I like the Table functionality the best. We used this a lot, and is a great feature to allow for the multiple lines of data entry.
Do you have any comment or suggestion?
Keep adding more functionality!!
Thank you very much Kevin for your honest feedbacks!