Still stuck with the old habit of using paper forms? Below are 10 reasons on why you should shift to digital forms!
Ability to use additional interesting features
Paper Forms have several limitations. With paper forms one cannot make automated complex calculations, include map entries or even perform simple operations such as incorporating a link to a specific document/url. Shifting to digital forms gives you access to several features allowing you to perform several simple and complex operations.
Discover some interesting and unique features that Kizeo Forms offers to organisations from different industries. Kizeo Forms provides the user the flexibility to incoroporate features and elements of their choice providing the possibility to design forms that best suit the user's needs.
Lesser Clutter/mess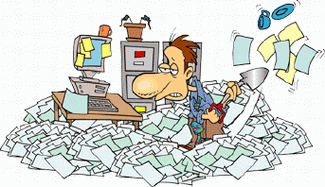 Paper forms are always a liability! Storage of these forms result in additional cost to organisations. Paper forms require investment in the form of cupboards, files and a lot of additional stationery costs. Furthermore, paper can be damaged easily and deteriorates over time.
Kizeo Forms can help you replace paper forms and ensure all your data is safe and easy to access. Don't waste time and money looking through piles of paper in order to retrieve data, automate your form filling process now!
Real-time access to transmission of information
Paper forms require investment in terms of money, resources and time. Employees spend a lot of time waiting to obtain the processed data.
With Kizeo Forms organisations can obtain all the important information on the go! Further, the email option allows you to route documents and data to the right person in real time and without manual intervention. The offline feature helps users collect data without an internet connection and transmits the data as soon as the user is on the network.
More Secure/No data leakage

Paper Forms lack security. One can easily steal/destroy information on paper. This lack of security could cost the company and result in un-fixable losses.
Kizeo Forms ensures that all the form entries are stored safely and assures that there is no data leakage. Kizeo Forms implements several technical and organizational measures, in accordance with applicable statutory regulations, to protect your personal data.
Quicker Data Entry

Data entry requires tremendous amount of time. Paper Forms normally result in duplication of data entry. Forms are normally filled on paper manually and data is entered on various systems/ERP.
Kizeo Forms eliminates this duplication. The application allows you to enter data on the go as well as offers integration across various platforms. This helps you save time and avoid additional resources spent to perform data entries.
Easier to comprehend information

Paper Forms are filled in by hand and using ink. Sometimes, the information entered on the forms are difficult to understand due to the hand-writing or ink smudges. This could result in mis-interpretation of data thereby rendering the data unreliable.
Kizeo Forms automates form filling and ensures that the data provided is legible/easy to comprehend and reliable.
Increase efficiency and cut costs

Lack of data at the right time could result in production downtime and cost the company a lot of money! Furthermore, paper forms result in costs in terms of money spent on obtaining paper, stationery costs, storing costs as well as additional investment to hire employees for data entry and analysis.
Kizeo Forms can help you avoid these costs and save money. The features offered by the Kizeo Forms platform further boosts the efficiency and makes form filling quick and less cumbersome.
Save the environment

According to a study by the Environmental Paper Network, If, for example, the USA cut its office paper use by roughly 10 percent, or 490,000 metric tons, greenhouse gas emissions would fall by 1.45 million metric tons. This is the equivalent of taking 280,000 cars off the road for a year!
Do your bit to protect the environment. Shift to Digital Forms now!
Increase customer satisfaction

In the digital age customer satisfaction is vital for a company to survive. Bad reviews and customer dis-satisfaction could result in un-recoverable losses!
Digital forms allows you to provide more accurate and reliable information to your customers. Furthermore, it quickens up a lot of time consuming processes thereby avoiding angry customers. A happy customer is the most valuable asset a company can have!
Ability to analyse historical data and predict future outcomes

With paper forms, analysis of recorded data is very time consuming and could be unreliable. This lack of automation could mount up your costs!
Kizeo Forms helps you store and analyse historical data recorded using the forms. The recorded data can also be used to predict outcomes and help you come up with mechanisms to fix or further improve your business!