Digital transformation for the construction industry
The construction industry is undergoing an irreversible digitization process. BIM, 3D printing, daily reporting on mobile devices… Digital tools are now almost on every construction site these past few years. This trend is going to last.
The electronic form (also called e-form or digital form) is a key working tool in this process of digitization. Many field workers and contractors are using it daily on the field to report and follow the progress on-site.
"There are a number of issues that relying on paper systems in the construction industry has caused. First and foremost, it is extremely unfriendly to the environment. It also slows down the progress of projects due to mistakes being made because of out-of-date information and it creates disagreements between clients and contractors when paper trails have not been adequately managed. Moving to paperless processes solves many of these issues."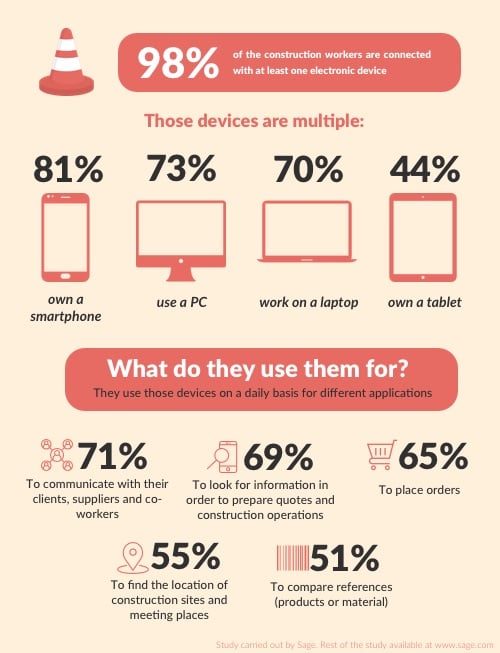 The digital form: the essential tool to boost productivity
Save time and increase productivity
Compared to paper forms, there is much more value you can add to your reports with digital forms. Take a picture on site, add comment(s) on it and share it within your company or with clients. Dictate long sentences with your mobile device. Sign electronically your documents. Get automatically your geolocation. Now, all those tasks can be done from only one device.
Digital forms are simple and save a lot of time to your field workers. By setting your forms beforehand, a lot of mistakes and loss of informations are avoided. The documents are easier to find. The reports are generated and shared instantly to whoever you think is necessary: co-workers, suppliers or clients.
Collect accurate data
When implementing standard processes through digital forms, you make sure to get the same type of data on every site. If some fields of your form contain crucial information, you can turn them into mandatory fields. This means no more information loss or mistakes.
The information is shared in real time and flows more quickly within your company. Additionally, your clients can get documentation related to the construction site much faster than before.
More savings for your company
Not only will you modernize your company image, but you will also save substantial amounts of money. Carpenters, operators, engineers, electricians and construction managers will spend less time filling paperworks. Which means reducing labor cost for your company.
For instance, you can automate your daily reports, near-miss declaration or timesheet to name a few. Once those digital forms have been filled out on-site, custom documents are generated and shared instantly.
"Back when we used paper forms, the worksite log reports were written at the end of the day. After a long day on the construction site, we still had to work on those reports late at night. The supervisors increased their productivity of about 30%. Thanks to the data collection from mobile devices with Kizeo Forms, the time spent on writing reports was significantly reduced."

-Régis Vilmus - Railway Engineer at SNCF (French Railway Company)