Employee timekeeping is a matter regulated by law for many reasons. The working hours of employees must now be tracked in order to avoid job insecurity, fraud, or non-compliance.
But in addition to enforcing the law, time control is also a great advantage for both companies and workers. And with the development of new technologies, this task can be fully automated.
Why time and attendance control is necessary
Keeping an exhaustive time and attendance control can be the key to solve productivity problems. Having greater control of activities makes it easier to identify and solve efficiency problems. In short, time and attendance control can help your company to achieve greater worker productivity as soon as it is implemented.
All the information obtained from time and attendance reports is a fundamental tool for your company to make decisions about personnel, especially in larger companies where the number of workers makes it very difficult to make a detailed follow-up.
In addition, timekeeping is a way to keep track of all employee hours worked, including overtime. In fact, when introducing its implementation in the company, it is important to communicate it to the workers so that they can understand the benefits that timekeeping has for them as well, since in this way they can make sure that their overtime hours are correctly accounted for and taken into account.
By keeping track of workers' working hours, it is also possible to control costs, so that instead of having to make salary reductions, it is enough to readjust tasks and schedules to increase productivity or solve efficiency problems that have been detected.
Moreover, timekeeping is not costly or time-consuming for workers. Time and attendance systems that use new technologies allow workers to fill in their time sheets in a very simple way, which only takes seconds and from their mobile phone or tablet.
Discover how to choose an employee timekeeping app to simplify data collection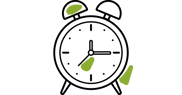 Tracking the time spent by employees also allows for greater flexibility in their schedules. Knowing the exact hours that your employees dedicate to the company also gives you the option of offering different entry and exit times to which each employee can adapt. This would be unthinkable without time control, since it would be too difficult to control the arrival of each worker to the company and the time spent at work without a system that handles this information.
In addition, this can serve to improve employee satisfaction. For example, keeping track of hours worked and making the workday more effective can make them feel more fulfilled and satisfied with the work they have done.
Time and attendance control also makes it much easier to plan schedules and working hours. On one hand, it is possible to know in real time the availability of employees, i.e. who is in the company and who has already finished their working day. On the other hand, you can keep track of employee attendance to reduce unjustified absenteeism.
How Kizeo Forms helps companies with employee time tracking
With Kizeo Forms, keeping track of your company's working hours is a piece of cake. You can keep track of the hours worked by field employees as well as those in the office. In addition, you can generate and export reports without much computer knowledge.
The mobile application uses mandatory signature, date, time and gps location fields, so you can monitor all staff with great accuracy.
In addition, it makes it easier for employees to clock hours, because it allows them to fill in their time data directly from their cell phone. Once they complete all the data, you will receive an automatic report in your email. This allows managers to easily track attendance and approve time entries.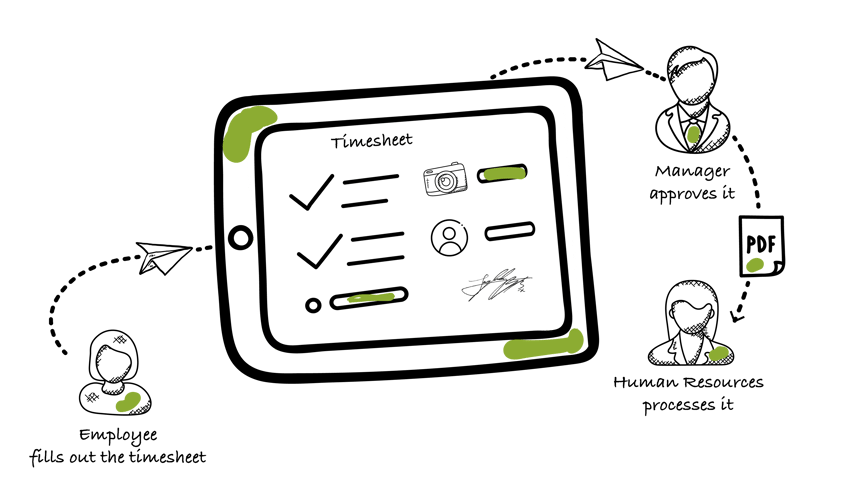 Another important point of the Kizeo Forms solution is its level of customisation. For example, you can customise what employees will see in the mobile application, as well as the information they must record (hours worked, order of service...). This configuration is easily done from the Kizeo Forms web platform. Thanks to the "drag and drop" system, you can design a template or form that your employees will then complete from the mobile app.
When it comes to exporting timesheets, Kizeo Forms makes it easy for you to generate reports. You can automate the style of your reports and the information to be included. You have three formats to choose from: Word, Excel and PDF. This method will allow you to instantly make daily, weekly and monthly reports, either on the hours of an employee or the entire workforce.
In case you need to connect the collected data with another platform or system, you can do it perfectly using our free API.
Finally, and given the potential of this tool, you can also record other processes such as leave requests, work reports, inspections and more. It ca n serve as the perfect time tracking software and payroll system. All your paper processes can be digitalised and implemented with Kizeo Forms, at no additional cost. Save time and money by using our timesheet software!