Asset tracking involves the process of tracking physical assets, either by scanning barcode labels attached to the assets or by using various tags that signal their location. It is the perfect inventory management tool for both fixed assets and mobile assets. Many businesses use paper forms to track their assets which is time consuming and leads to many errors.
According to a markets and markets report, The asset management systems market is projected to grow from $16.8 billion in 2020 to $27.4 billion in 2025. It is predicted to grow at an average annual growth rate of 10.3% from 2020 to 2025.
A mobile solution like Kizeo Forms serves as the perfect asset tracking system. It is a field based asset management software that can track information in real time. All you need is a mobile phone to fill out the necessary information.
Smart asset tracking mobile form for all industries!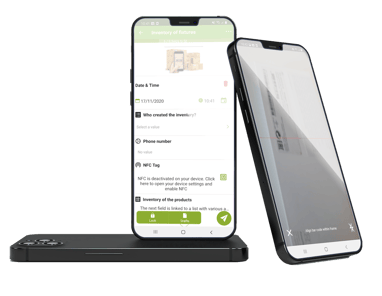 Kizeo Forms is a complete solution to track and manage your entire supply chain. Be it a small business or a multi national diverse enterprise, it is the perfect mobile solution to gain full control over your assets. Here are some essential features provided by this asset tracking software:
Barcode scanning: Barcoding assets is essential to keep a track of all your assets. The Kizeo Forms tool helps you automatically scan these barcodes from your mobile devices. It serves as a perfect asset register.
NFC tags: In addition to barcodes, many companies use NFC tags to track assets. With our solution, you can scan these tags and obtain all the information associated with the tag.
Geolocation tags: Record geolocation of your assets directly from your mobile app and automatically time stamp your reports. Conduct your asset tracking inspections from multiple locations and get a consolidated report.
Schedule planned maintenance activities: Thanks to Kizeo Forms you can plan and ensure preventative and predictive maintenance. You can also send pre-filled forms to your field employees to help you save time.
Visibility conditions: Our solution helps you define various form visibility conditions. It helps you make certain fields appear or disappear based on your form responses. This helps you avoid filling out information that is not relevant and saves a lot of time!
Sketch photos and drawing: Take photos of the asset and highlight areas if necessary to transmit maximum information.
Manage users: Define user visibility, manage teams and tasks. Transfer work orders, store, share and access information from your mobile device or tablet.
Customisation: Create tailor made forms, emails and reports. The Kizeo Forms solution is extremely flexible and intuitive.
Integration: You can integrate the data collected using Kizeo forms to multiple solutions with our API.
Words from our customer..
"We used Kizeo Forms as our primary tool for safety forms, daily job safety analysis and equipment inspections. These forms are emailed to maintenance staff and other key personnel to keep them informed. We are exploring other uses and have found that we have been able to replace some paid services by using our own forms on Kizeo Forms. It's a great product, I was very impressed by the ease of use and the ability to customise the forms for our company." -Ben H, HSE Director in the Oil & Energy sector
With Kizeo Forms, you can manage the entire lifecycle of the asset. This includes planning, acquisition, operations and maintenance as well as disposal of assets. Easily reduce the number of stolen assets and identify and remove ghost assets from your inventory.
Simple steps to get started with asset tracking:
Create forms: create forms on our online platform thanks to our simple drag and drop form builder.
Add users and customise: Add up-to 10 users for free during the trial period. Create custom reports and emails attached to each form. You can also benefit from our standard pdf reports
Fill out forms: Fill out the form you created from the mobile application available for android and iOS.
Recover data and analyse information: Recover the data collected on the online platform. analyse the data collected define KPI's and make business decisions.