Inventory Management Applications help you manage all aspects of inventory such as procuring, packing, shipping analyzing etc. There are several applications that are available to help in managing your inventory. It is however very difficult to pick the right one. This article can help you understand the various parameters to look for while making your choice. The Kizeo Forms app can be the perfect tool to help you achieve your inventory optimization objectives. The various features the app provides optimizes the way data is managed and improves workforce efficiency!
Are you currently evaluating the right application to manage your inventory? Below is a checklist that contains everything you need to look for in an inventory management application . This way, you will not miss out on important functions and features. Gather all the necessary application elements to optimize your inventory.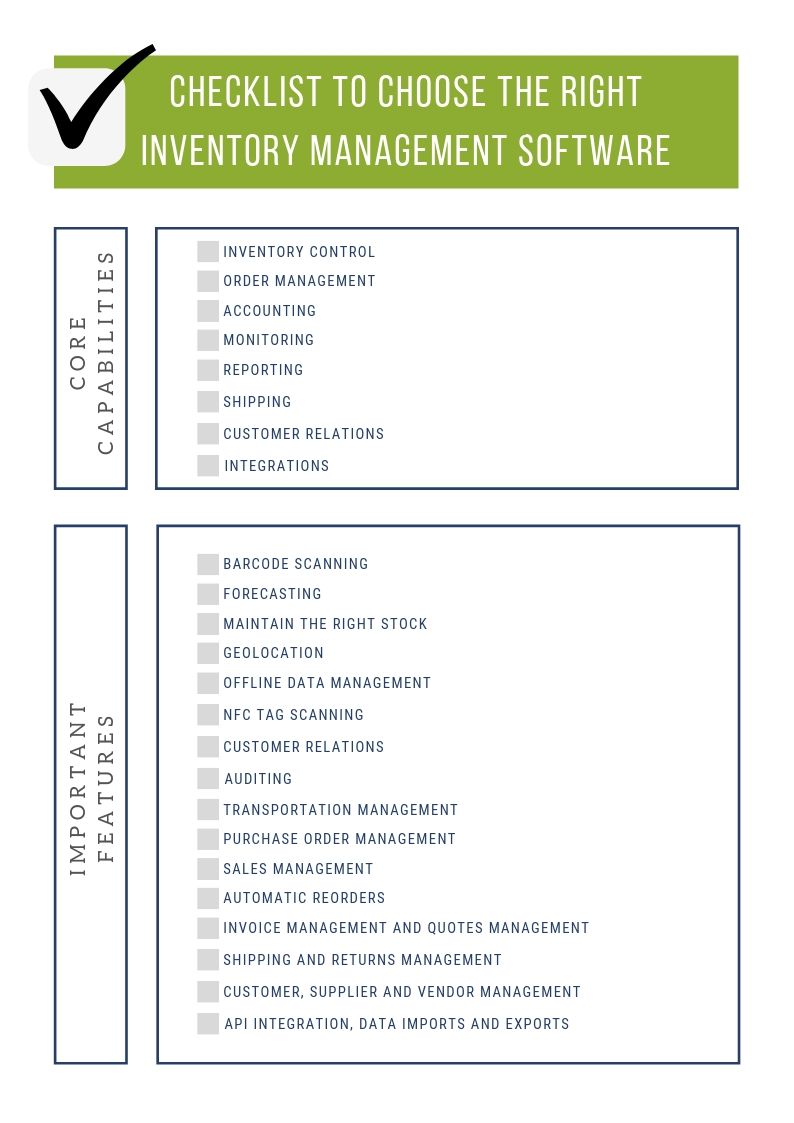 How the Kizeo Forms Application can help you manage your inventory
The Kizeo Forms app meets all the requirements on the above checklist while providing several other features and functionalities that can help various departments at your enterprise.
✔︎ Inventory control:
Record current stock, forecast future stock and track shipments. Create your inventory control form in minutes! Features to help you achieve this: Barcode scanning, NFC Tag scans, Geolocation, Automatic emails, customizable reports, analytics and more!
✔︎ Order Management:
Manage all necessary aspects involved in fulfilling customer orders. Important elements: Automatic calculations, emails, contact collection, data imports.
✔︎ Accounting:
Record financial information and audit them. Create simple expense reports and invoices. Functionalities: Calculations, standard and customized exports, lists, signatures.
✔︎ Monitoring and Reporting:
Analyze the data collected and set future goals. What to look for: History, Analytics, Reports.
✔︎ Shipping:
Track the location of your products across various transport channels. Manage deliveries and returns. Elements to achieve this: Date and time, Geolocation, Signature, emails.
✔︎ Customer relations:
Centralize data collected and manage new sales opportunities. Manage all stakeholders involved: Suppliers, employees, vendors & distributers. form field that will help you: Contact, email, slider, photos.
✔︎ Integrations:
Integrate the information collected to your database or information system. Share data seamlessly! Simple integration with: API, data exports and imports
What are you waiting for? Start testing right away!

The Kizeo Forms offers a free trial period of 15 days where you can test all the functionalities. No commitment or credit card details is required for your free trial. Furthermore, we have a forms library with most used templates to help you save time. You can also create your form from scratch and customize it to meet your needs!