Maintenance is a key component in all organizations. All assets deteriorate over a period of time and require timely maintenance to continue working effectively. Lack of proper maintenance results in production down-time and can bring the entire company to a halt. A lot of paperwork is involved in maintenance for conducting inspections, updating schedules and recording details. Kizeo Forms can help in maximizing productivity and reduce costs by automating and simplifying the process of data entry.
Kizeo Forms for Field Maintenance
Be it equipment maintenance, vehicle repair and maintenance or building and facility management, Kizeo Forms can automate your form filing process. The offline feature of Kizeo Forms can help you record details without the internet thereby removing the dependance on the internet during field work/inspections.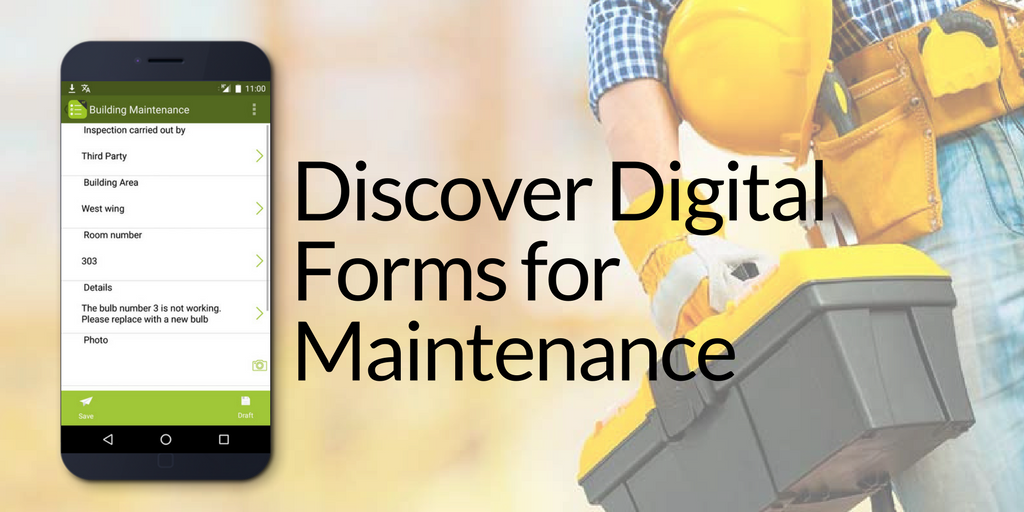 Key benefits of Kizeo Forms for the Maintenance industry:
Create inspections and work orders on the go and revolutionize the way maintenance is performed.
Connect maintenance teams to their operations and ease the administrative process.
The flexible design process helps you create forms incorporating various elements and features that suit your needs.
Ease the process of mobile field maintenance. Record details from maintenance checks and repairs on the go. The app can be accessed on multiple devices.
Send work orders, or send a request to order spare parts after maintenance checks to speed up the process.
Analyze reports and set up a preventive maintenance schedules to stay ahead and avoid production downtime.
Record all the details about the issues and send an e-mail to the right team to handle or fix the issues and include photos and the location to simplify the process.
You can include multiple details such as equipment tag number, date and time the problem occurred, image specifics, location, spare parts required, contact details, etc
Kizeo is guiding daily our field technicians at Sodexo Energy and Maintenance, French multi-technical branch of the Sodexo group, in optimizing our processes on site. Indeed, thanks to Kizeo Forms, digitization has become a real tool within reach. We now save a substantial amount of time.

-Charles REMANDE Manager of the Environment & Energy Department Technical Direction – Sodexo Energy and Maintenance
Avoid spending countless hours on manual reporting! Switch to Kizeo Forms to quickly record and track all your maintenance operations.