To be hospitable is to be prompt and to be responsive. Kizeo Forms can provide a competitive advantage to the companies in the hospitality industry by increasing the response time and enhancing customer relationship management as well as relationship with employees. By using digital forms, one can save time and minimize the number of resources. The hotel and tourism industry requires data entry on a daily basis, time spent on filling up paper forms equals several missed opportunities from new customers!
Re-discover data entry in the digital age!

Would you rather enter data on paper forms where it is sometimes impossible to decipher the handwriting and awfully time consuming or on a legible digital platform that can perform some cool actions such as read bar codes and perform calculations in seconds? Digitization has been revolutionizing the hospitality and tourism industry!
Discover how you can benefit from the use of digital forms: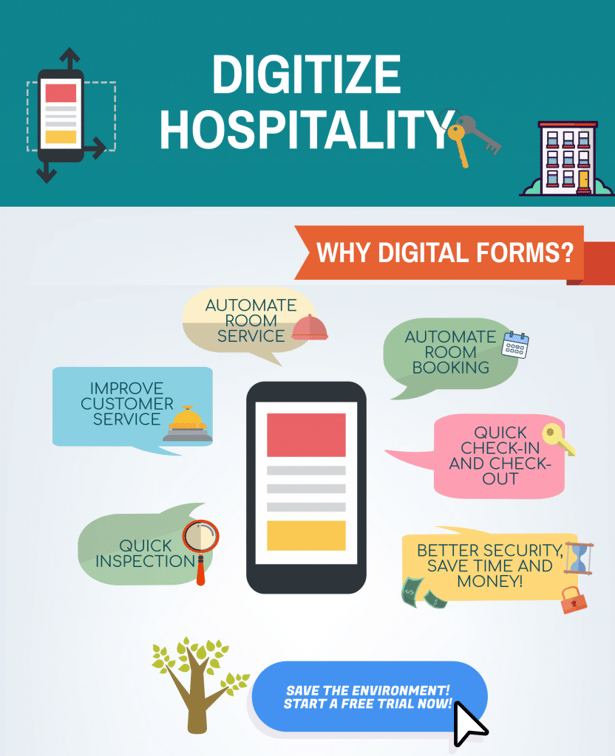 Benefits of using Kizeo Forms:
Hotel room inspections are far more simpler using Kizeo Forms. You can take pictures of the room, provide a rating, calculate a score, etc
Room booking entries can be done digitally rather than on paper making the forms easy and quick to fill and complete whilst providing enhanced security
Room service requests can be automated to ensure quick and responsive service
Employee timesheet records can be filled in easily and this information can be integrated with the database
Digital forms are eco-friendly as well as cost effective thereby benefiting you as well as the environment
Flexibility to personalize the form and reports as desired
Easy to gather, review, analyze and respond to customer feedback
Save time and money spent on filling/analyzing paper forms