📲Automate form filling with Kizeo Forms!

HVAC services requires data collection and transfer between the contractors and company workers for equipment inspections, maintenance, contracts, invoices, proposals, standard rules and regulations document, safety checklists and more! Paper forms can be a hindrance to this process as it takes up a lot of time to fill the form, data must be re-entered on the computer after form filling and filling up paper forms could result in several manual errors.
Kizeo Forms is the perfect mobile application as it allows you to create digital forms that suit your needs. The easy drag and drop interface allows you to choose various elements such as geolocation, checkbox, choice, signature, calculation, text and numeric fields, sliders and more and create your customized form. You can fill the form from any mobile device or tablet even without an internet connection. Furthermore, you can attach customized reports to your form and send them via email to multiple recipients.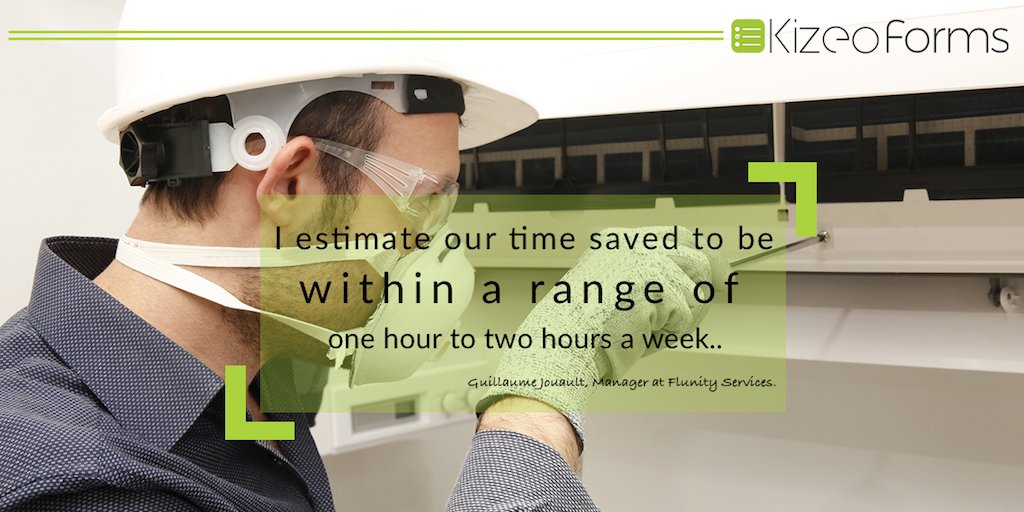 ✅ Ways digital forms can modernize your business
Highlight elements on photos
You can use the Kizeo Forms application to highlight areas on the picture. This could be very useful during maintenance inspections to mark areas that need repair and fixes.
Send pre-filled forms
Send pre-filled forms to other users. Transfer a partially filed form with information such as geolocation to the service man.
Secure your form
Use the signature element to secure your form. This ensures that the form cannot be modified without erasing the signature.
Send invoices
Attach invoices as reports and send them to your customers immediately after the completion of the service via email.
Send data from any location
Record and transfer data without an internet connection. Once you are back in a connected area the data is automatically transferred/sent.
Data standardization
Kizeo Forms can be used to ensure that there is consistency in your records as you can create form templates that meet your company policies.