⏱Provide timely plumbing service with the Kizeo Forms application!
Successful plumbing requires proper organization and management. One needs to obtain all the customer data such as the name, location as well as the issue and transfer these details to the right plumber as quickly as possible to provide the best service. Paper forms are a huge hindrance to this process as it requires data re-entries and are sometimes illegible and difficult to comprehend.
Kizeo Forms can help you enhance efficiency in every step of the plumbing process. You can schedule the right plumber for the issue, create checklists add photos and signatures during inspections directly from your mobile device/tablet. Furthermore, you can also attach and send an invoice upon the completion of the form thanks to the Kizeo Forms application. Benefit from features such as sliders, checkbox, choice, geolocation, calculation and more!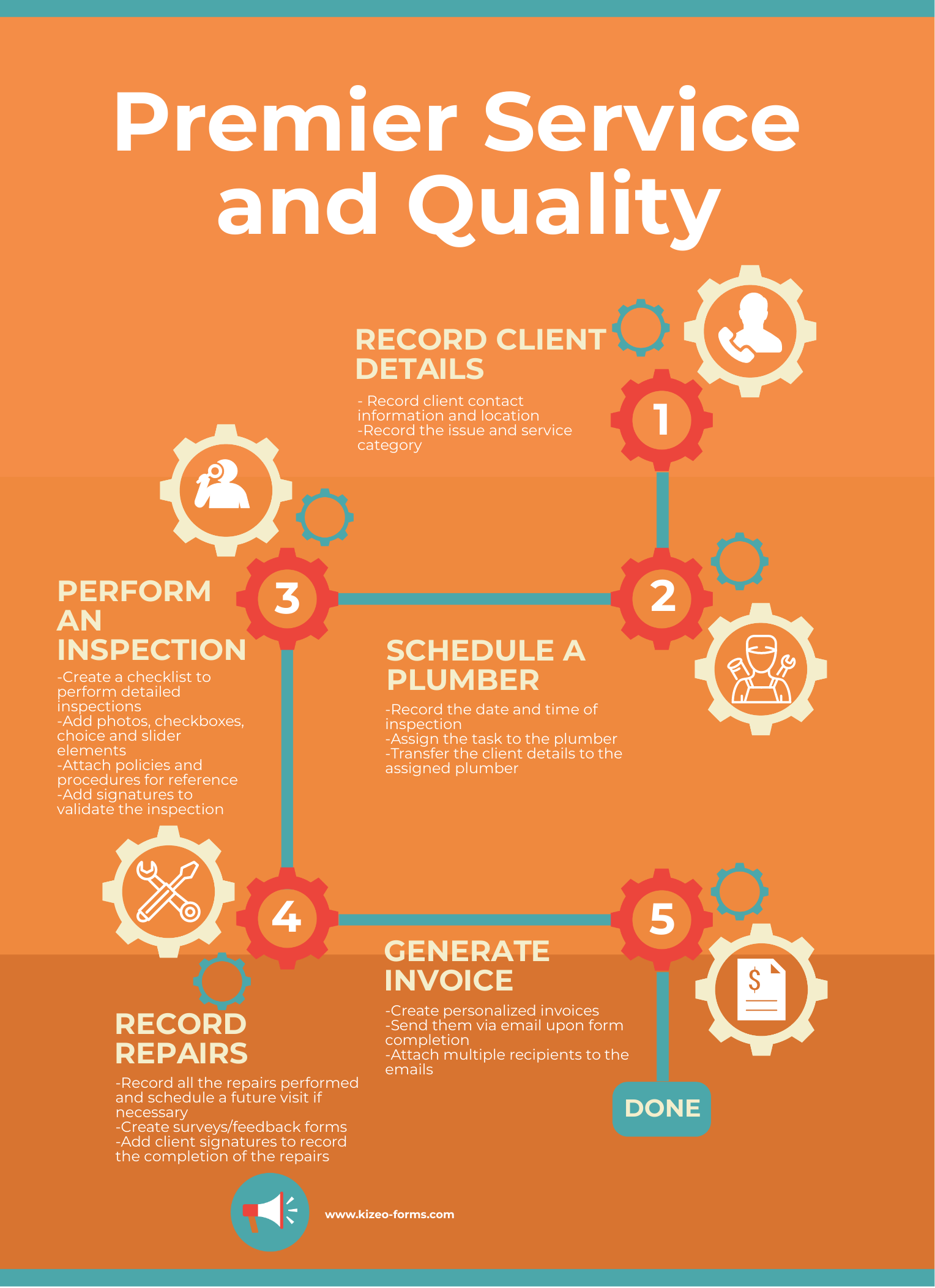 🌟Advantages of Kizeo Forms
Quickly and easily send repair estimates to your customers
Maintain an inventory of the plumbing equipment
Ensure policies and procedures are respected
Create and send schedules to the plumbers
Maintain customer records
Create checklists to ensure proper inspections
Generate invoices and send them to customers via email
Analyze historical data to make future business decisions
And so much more!
📲Save time and money!
Customizable forms
Create your 100% personalized form on our platform and configure your document with the many options available such as slider, geolocation, date and time, checkboxes, signature etc.
Works even without an internet connection
Fill in the forms from your mobile or tablet from any location. The application works in offline mode. Once you are re-connected to the internet, the data is automatically transmitted.
Send emails and reports
Program emails to multiple recipients and attach customized reports to the mails.
Analyze data
The form data is instantly collected on the online platform. You can filter and export them in the desired format and analyze them to make business decisions.