🏠Deliver the best Roofing Service
Commercial and Residential roofing is always performed on the field and involves various steps such as collecting the contact details of the customer, location, checking if the necessary equipment to perform the service is available or needs to be purchased, site inspection, installation/repair/replacement of the roof in accordance with the rules and regulations, invoicing and analysis. Using paper forms to perform these activities results in lost time and money due to data re-entries on a computer, manual errors while filling out and transferring data, lack of security resulting in misplacement of documents and more!
Kizeo Forms can help in collecting and sharing information in each and every step of the roofing process. Use special elements like geolocation, checklists, signatures, attach photos and files, perform simple and complex calculations, as well as create customized reports and send them via email to multiple recipients upon completion of the form! Furthermore, you can also analyze historical data to make future business decisions thanks to the Kizeo Forms application.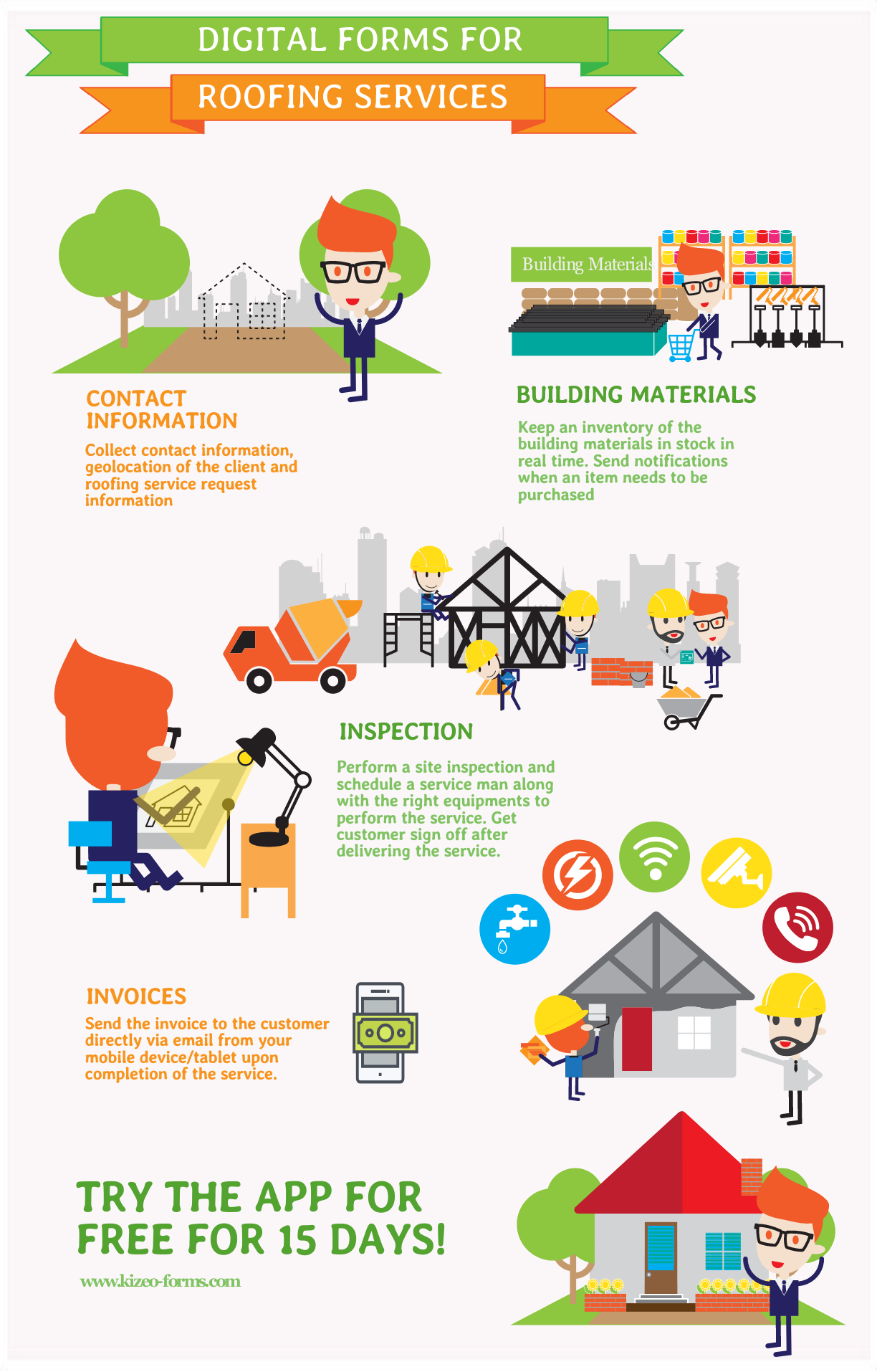 📲Discover the various benefits!
Perform detailed inspections
Record every element and do not miss out on information by creating mandatory fields, add help texts to aid the person filling out the form, use many options available such as slider, photos, geolocation, date and time, checkboxes, signature etc.
Works even without an internet connection
Fill in the forms from your mobile or tablet from any location. The application works even in offline mode. Once you are re-connected to the internet, the data is automatically transmitted.
Send customized emails and reports
Send emails to the appropriate department such as to the inventory, inspection and quality managers and so on as well as invoices to the customer upon completion of the form.
Analyze data
The form data is collected on the online platform and can be analyzed to help you make business decisions