Are you ready and up to date with the ongoing Field Service Management 2020 trends? Based on research by Fortune business insights, the FSM market size stood at USD 2.29 billion in 2018. It is projected to reach USD 7.27 billion by 2026, thereby exhibiting a CAGR of 15.9% during the forecast period.
Upheavals in Field Service management 2020
The field service management market has been subject to several upheavals in 2020. The pandemic is just one among the several problems. Through this article learn about the existing situation, trends and how to combat these issues.
Many enterprises involved in field service work deal with data issues. The prime problem is either inaccessible or inaccurate data. Administrative tasks and paperwork lies at the heart of their activities and take a significant amount of time. To solve this data collection issues, organisations are trying to improve the collaboration between field technicians and managers to try and deliver the best customer service.
Field Service Management 2020 trends
Customer experience is of prime importance in service management. Here is a list of some trends observed in 2020 in the field service management industry.
Use of mobile apps for data management: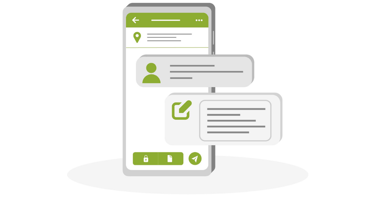 Gartner's research (Gartner magic quadrant for field service management), claims that in 2020 75% of Field Services companies will use their own apps in their day to day work. With respect to this research, this will help in increasing efficiency and save time.
Kizeo Forms is one such application that ensures data consistency and quality. It is ideal for field employees as the data can be collected even without an internet connection. Furthermore, it can be transferred to the right person at the right time. Our customers have seen a 30% increase in workforce efficiency and generate reports 5 times faster!
Task control with artificial intelligence
AI tools are increasingly being used to control various service processes. AI allows the automation of the work order lifecycle, from planning and tracking the status of technicians on the field, to customer communications and real-time planning.
PPE checks
With the pandemic, enterprises have realised the importance of digitalising PPE checks. This helps you save time as well as ensure workforce safety. Our COVID19 checklist form helps you ensure site safety and security. Make returning to work in a pandemic world more easy and safe.
Increase in the importance of the Internet of Things.
As a matter of fact, 42% of field service management businesses have already developed IoT. IoT helps in achieving mobility and thereby helps you establish direct communication between the clients and customers.
'Mobile First' Strategy for Intelligent Field Service Management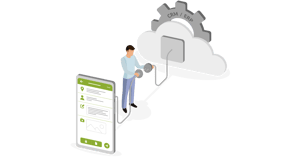 Enterprise mobility is gaining importance for a particular purpose. It is important to consider mobile as the heart of your digitalisation plan especially in FSM. According to a study conducted by Zebra Technologies, Today, 74% of organisations rely on paper-based systems for over one-fifth of their field operations. By 2023, almost 35% of organisations will be less reliant on paperwork.
The Kizeo Forms app serves as a stepping stone to help you achieve mobile first digitalisation. Our customers process a day's worth of paperwork in just 30 minutes!
Augmented reality to improve operational efficiency
AR technology currently has the potential to transform the way people work. This includes the way they carry out work orders, provide remote assistance and display data in real time. AR smart glasses or an AR mobile phone enable field technicians to view and interact with video and digital content, enhancing their view with computer generated information.
Increase in the use of drones and robots in services.
Field service technicians will expand the use of the new resources that technology offers them: drones and robots. First of all, the use of drones to monitor hard-to-reach machines will increase. Second, the use of robot assistants to perform mechanical tasks or in environments that are hazardous to humans will increase.
The right implementation strategy
Many companies are tempted to purchase fix-it-all technologies. This method is not the best way to move forward. The ideal solution instead is to determine one or two concerns to address and work their way forward from there. It is unwise to buy technology or tools just because everyone else is doing so. Companies ask their users to select a vendor product or service without analysing their needs. 73% of companies failed to derive any business value from their digital transformation efforts. Therefore, the first few steps toward digitalisation is very important and defines the future for your enterprise. To ensure success, companies first need to understand and analyse the various tools available at their disposition, test and choose a tool that helps in increasing efficiency. Businesses must accept change with open arms. You can do so by continuously analysing and improving your business processes. The Kizeo Forms solution is ideal for you to get started and progress. Is your enterprise ready to keep up with the trends in the industry? Test the Kizeo Forms solution and reach out to us to let us help you get started.