An inventory control system allows you to control goods and stock, record movements and track purchases. It keeps your supply chain on track without any hiccups. The smooth functioning and management of these factors is crucial to your company's performance. Therefore, it is not something that should be handled simply with the help of pencil and paper.
These systems make use of barcodes, images or imported lists to know the stock in a warehouse, with calculations made from purchases and sales.
Nevertheless, for inventory management to be effective, it is necessary to maintain a total vision of the entire process. It is also important to maintain the most appropriate stock levels throughout the year in order to avoid losses.
In this sense, inventory control systems are a great advantage. It helps to collect information about the goods during the entire process, production, packaging, storage and shipping. In short, all the movements that are made between warehouses and branches can be recorded.
Inventory management varies depending on the industry, the company's needs and the investments. However, all inventory management systems generally include tools to generate reports, create checklists, sign and validate reports, and send emails to the appropriate personnel, among other functionalities.
Benefits of inventory control systems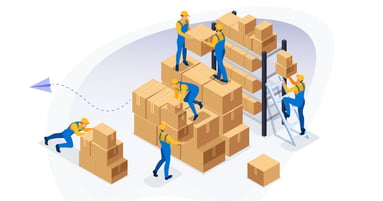 Implementing inventory control systems is already a widespread option in both large and small companies. The benefits and advantages that are obtained are many, and can result in becoming the definitive tool to finally have a correct inventory control and get the most out of your company.
Maintaining a good inventory control has direct effects on costs if periodic analysis is carried out. By doing this correctly, it is possible to quickly detect theft so that you can take action, preventing it from being detected directly in the final year, affecting cash flow.
And with proper management, it is equally possible to save you some important losses caused by misplaced or incorrectly inventoried merchandise.
In addition, with an inventory control system you can have all the information you need to analyse past inventory movements and predict when you will need more stock without accumulating it. Making these predictions can help your company make the right decisions at the right time.
The fact that all the information is collected and stored in the inventory control systems also allows the purchasing cycle to be streamlined and payments to be planned in advance. All this, together, makes it possible for your company to obtain greater economic benefits.
In addition, with this inventory management it is much easier to control what has been invested and what those costs represent for the business.
With the functionalities of an inventory control system such as Kizeo Forms, including barcode scanning of products, imported lists and the ability to collect accurate information on-site, inventory collection and management will no longer be a slow and inaccurate process that causes losses to your company.
How Kizeo Forms can help you with your business inventory control?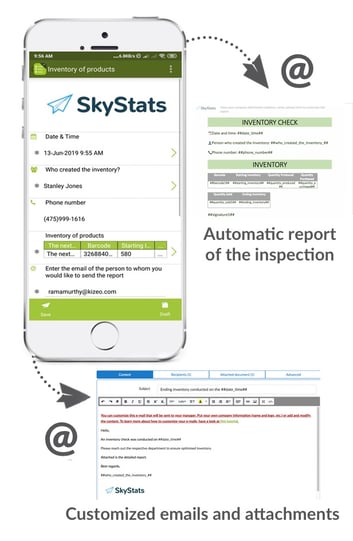 Kizeo Forms has two tools that can help you with inventory control:
First, a web platform with which you can create the forms and checklists you need for different processes, such as recording incoming and outgoing goods or taking inventory at a given time. You can also import your database and use it in your forms, thus facilitating and controlling data collection.
We also provide a mobile application. This is a powerful tool for your mobile teams, so that they can take inventories with the forms you have created and generate reports in the most accurate and tailored way possible.
With this tool you can keep track of the merchandise dispatched in the warehouse. To do so, you only have to open the Kizeo Forms mobile application and start collecting information using the option of reading barcodes of the products, taking photos and automatic calculations, as well as adding the digital signature.
As for data management and export, this cloud solution allows you to generate automatic reports and share them by email instantly. In addition, you can access your data at any time from the web platform to export the data collected in different formats, such as Excel and Word.
It is also possible to connect and integrate Kizeo Forms with different ERP and BI tools such as Power BI, thanks to our API completely free of charge.
Kizeo Forms is a cloud solution that for a low cost allows unlimited use and sending of data, thus facilitating greater business mobility. It is 100% customisable, i.e. you can design the forms to fill out according to your needs and personalise your reports with your company logo, layout, size of photos and more.
Keeping a correct and effective inventory control is now easier than ever. Start using Kizeo Forms to save time, manpower and money by managing all types of inventory! We also have form templates at your disposition on our forms library to help you get started.