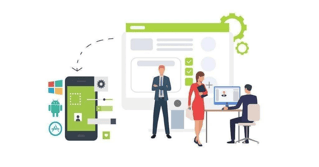 Mobile forms application is gaining an increasing amount of attention among many enterprises today. Companies are increasingly automating their inspections, service reports, invoices, and so on. This automation is done using a mobile device or a tablet to collect and transfer information. This automation allows them to save a lot of time and increase the efficiency of their workforce.
Several mobile form applications are now available to help you automate business processes.
Kizeo Forms and JotForm are one among the popular forms automation tools. Through this article, discover the similarities and differences between the applications and make an educated choice.
Kizeo Forms vs. JotForm: Similarities and differences*
Both Kizeo Forms and JotForm deliver several powerful functionalities. They both offer a simple online form builder, offline data collection, pdf reports, lists, digital signatures, form templates and much more! With Kizeo Forms you can benefit from several functionalities that aren't available with the JotForm solution. This includes scanning NFC tags and a sketch field that can automatically add information within your table.
Furthermore, Eric Lund left the following review on JotForm on the platform Trust pilot: "We really want to like JotForm, but they don't make it easy. In theory it's a great product. But as others are saying; it is buggy, unreliable, and tech support SUCKS. They may respond, but typically the response solves little to nothing, or isn't even applicable to the current version. Very frustrating."
Pricing*
Price is a major factor in any purchasing decision. Therefore, comparing these two mobile form solutions is essential prior to making your choice.
JotForm does not have a free trial version for their application. Their pricing includes various plans ranging from $24 - $74 /month. They have an enterprise plan to add several users and its pricing ranges from $59 - $79 /user/month.
With Kizeo Forms you can test all the functionalities for free for a period of 15 days. You can add up to 10 users to ensure your team members approve of the solution before moving on to a subscription.
With Kizeo Forms you can benefit from all the functionalities for a price of 9.9 euro/ month/ user billed annually. The JotForm platform costs approximately 405% more with almost the same functionalities.
*Information as of September 2020
Here's what our client's have to say...
"KIZEO is an excellent tool for generating field forms. It is very versatile to configure, it allows you to send emails based on pre-established parameters and, most importantly, it is extremely user-friendly to configure custom reports. This is an excellent alternative when you already have standard formats. The use of the App is intuitive, that has allowed a quick adaptation of our field staff. Overall, we are very satisfied with the acquisition." - Miguel Vilchez
With Kizeo Forms, You can automate any process at a reasonable price and with ease. Our ROI calculator enables you to determine how much time and money you could save with Kizeo Forms. All you need to do is enter the number of field employees present in your company on this white paper.