Kizeo Forms vs MoreApp: Mobile Forms Comparison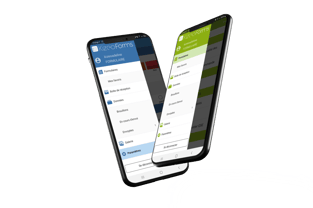 Mobile forms implementation is attracting more and more interest among many enterprises today. Businesses are turning more and more towards automated inspections, service reports, invoices and more. Such automation is done using a mobile device or a tablet to collect and transfer information. Thanks to this process, companies can save a lot of time and increase the efficiency of their workforce.
Digital forms are more efficient than paper forms when it comes to collecting data. It can help you save approximately 15 hours per week and improve efficiency by 30%.
Several mobile form applications are being made available to help you successfully automate business processes.
Kizeo Forms and MoreApp are one among the popular forms automation tools. Through this article, discover the similarities and differences between the applications and make the right choice.
Kizeo Forms vs. MoreApp: Similarities and differences*
Both Kizeo Forms and MoreApp deliver several powerful functionalities. They both offer a simple online form builder, offline data collection, custom reports, geolocation, digital signatures, form templates and much more!
With Kizeo Forms, you can benefit from several features that are not available with the MoreApp solution. This includes scanning NFC tags and a sketch field that can be used to automatically add information to your table. In addition, MoreApp does not offer an audio option, or a slider with defined text and numbers. The lack of a validation criteria and lack of a scheduling option limits the customisation provided by MoreApp.
Here is review of MoreApp on Capterra by Miguel V., Gerente General:
"Easy to use, not very friendly to export"
Pros: The software is very friendly and intuitive to program. The platform works well and the advice was very good. I have been using the trial version.
Cons: It is quite difficult to export the data to existing formats. Therefore, and despite the fact that we liked the platform a lot, we had to reject its acquisition.
Below is another review of MoreApp on Google from 2 weeks ago.*
Their phone apps are just a web view, so their forms are just html/css/js everywhere. They use a very old version of Angular, and their pricing is just ridiculous. Not worth it, just make your own forms. If you want drag-and-drop, there are alternatives for that as well.
Pricing
Price is a significant factor in any purchasing decision. It is therefore essential to compare the two mobile form solutions before making your choice.
MoreApp plans range from 35€ - 495€/month for form submissions ranging from 150 -2500.
With Kizeo Forms you can test all the functionalities for free for a period of 15 days. During the free trial you can add up to 10 users. This helps you ensure that your team members approve of the solution before moving on to a subscription.
With Kizeo Forms you can also benefit from all the functionalities for a price of 9.9 euro/ month/ user billed annually. This allows you to perform unlimited form submissions. *Information as of October 2020
Here's what our client's have to say...
"I like that I don't have to know how to code. Another big plus is that setting up basic data collection forms is quick and easy. I can set up simple forms for my survey crew that are easy to use. This helps them enter data accurately, and I really like that I can set up customised output reports, customise what data are included, and what type of report email is automatically sent, and to whom. Works very well on mobile devices. I love that Kizeo has helped my team eliminate the need to manually transpose handwritten field data into a spreadsheet back in the office. Time saver!" -Jeff M, Shellfish biologist
With Kizeo Forms, you can efficiently and easily automate any process at a very reasonable price. Our ROI calculator allows you to determine how much time and money you could save with Kizeo Forms. Simply enter the number of field employees present at your enterprise on this white paper.
How to get started?
Create your free test account. When you sign up for Kizeo Forms, you get a 15-day free trial period for testing all the features at no additional cost. Moreover, you can add up to 10 users to test the solution.


Build your forms on the online platform, Automate the sending of emails and reports, Manage users, etc.
Complete your forms from the mobile device or tablet
Recover data from the online platform, analyse the collected data and use this data to make business decisions.