Need for a medical patient history mobile app
Mobility is perceived to be very important in light of the current situation in the health care sector. According to DMN3, 77% of people book medical appointments online. However, a recent survey showed that only 7% of healthcare and pharmaceutical companies said they had gone digital. To stay ahead with the innovations and to combat the current situation medical professionals have to go digital. Furthermore, as the healthcare industry contains an abundance of personal information. The security of this data is extremely important.
Mobile forms can be an excellent starting point to facilitate this digital transformation. Are you looking for an easier way to process information? Most professionals have a problem understanding where to start. This is due to the abundance of medical apps available. Through this article learn how and why the Kizeo Forms app is ideal for you.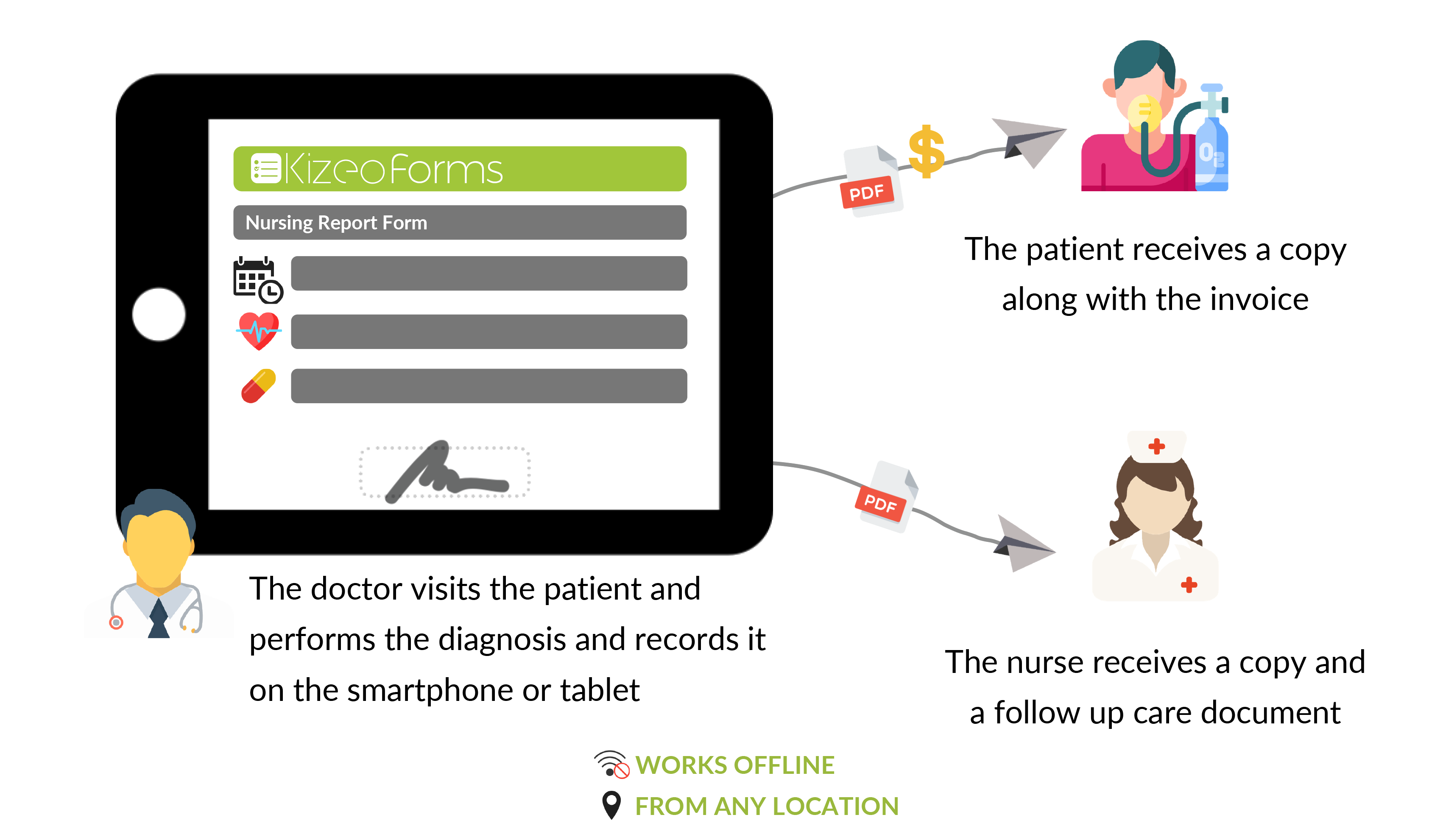 Record patient health history with ease
Record your patients' personal medical information. Add in all details such as age, weight, blood pressure etc directly on your mobile device. By doing so, you can have all your patient history and medical advancements in the blink of an eye. The data collected can be automatically integrated to several medical software and CRM.
Centralisation of medical information
Obtain all your electronic medical records in a single place. Centralising the health data helps you analyse and interpret data with ease. Furthermore, it helps you avoid losing time looking up or searching for the desired information.
Manage health insurance
Attach insurance records to each patients' personal health record and process them with ease. Accelerate the process of treatment by using this health app to manage insurance records. You can easily track information such as patient details, diagnosis, hospitalisation/treatment date, bank information, amount etc.
Mobility with test results
Thanks to this app, you can send/transfer lab results directly from the mobile device. This helps you have a contactless delivery of information. Receive and transfer information on the fly without having to wait.
Essential Features for a patient history mobile app
Signature: Use digital signatures to authorise the data collected and simplify administrative process.
Geolocation: Add geolocation while performing domestic patient visits.
Visibility and reference information: Fill in certain fields automatically with the reference option. For example for a patient that is re-visiting, you can auto populate several fields associated with the patient. You can do so by just selecting his name from a list
Attachments: Attach necessary documents directly to your forms for reference for example the medication prescriptions, test results etc. You can also add documents for reference to help your retrieve information faster.
Calendar: Add in date and time information with ease and schedule upcoming appointments.
Photos: Take pictures with a timestamp and maintain a record of all the information collected.
A word from our customer
At this moment, doctors and nurses are bombarded with a pile of duties. In addition, they need to sort through a large number of records. Kizeo Forms can help you breathe a sigh of relief by automating several processes.

"Kizeo Forms allows us to guarantee a secure method of tracking information (no patient identification information and files stored on a secure Kizeo server). It also allows us to obtain PDF files as legal evidence. These Excel files are up to date and available to physicians at any time. It facilitates analysing data in the short, medium and long term." -Catherine Petermann, The Jules Verne Clinic
Want to know your ROI with Kizeo Forms?
Download this white paper with information on mobile first digitalisation and a free ROI calculator. This helps you calculate how much time and money you can save by shifting to Kizeo Forms. It is the outcome of an in-depth analysis and is based on the results observed by our clients.