Mobile business forms helps you deal with the piling paperwork and improve productivity. Paperwork is an integral part of all business activities. It is time consuming and requires proper organization. Most of the work stress in various businesses is a direct result of incomplete of piling paperwork. Daily form filling can't be avoided but it can be made simpler, easier and stress-free!
Make form filling simpler for your business with Kizeo Forms
The Kizeo Forms application helps you create the digital version of all your business forms. Designing and filling out forms has never been this easy. Drag and drop elements to create your customized enterprise forms and fill them out on the go. Furthermore, Our forms library offers several templates for free! Use them, edit or create from scratch.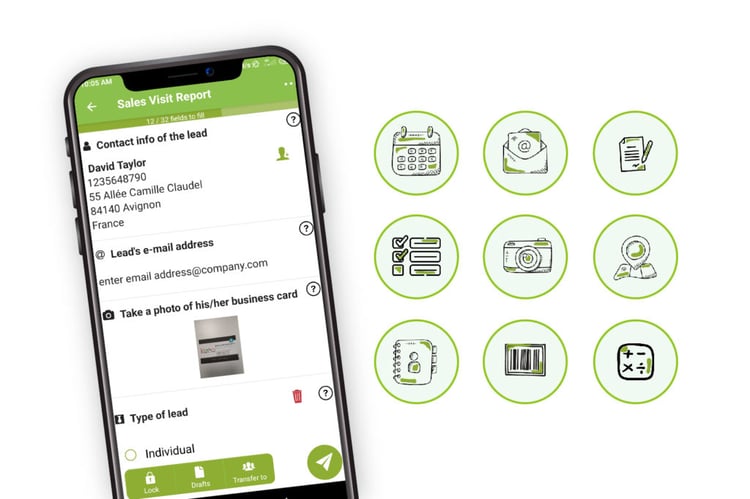 List of some enterprise forms you can design with Kizeo Forms
New customer registration form: Collect customer information easily from any location. Collect information during trade shows and customer visits. You can also follow up and end automatic emails to your customers and teams.

Timesheet: Fill out hours worked, request for leave and let Kizeo Forms do the automatic calculations and email requests for you!

Invoice: Send out invoices to your customers and partners directly from your mobile device once the job is complete.

Product surveys: Get a good understanding of your product's potential success by conducting regular product surveys.

Expense report: Manage and process expenses through a detailed follow up for each statement.

Complaint forms: Collect and resolve complaints and issues. File and process them quickly to ensure your customers and employees are satisfied.

Change requests: Create, Record and process project changes. Send invoices and ensure error free change implementations.

Incident report: Record workplace accidents, near misses and injuries. Ensure that safety measures are in place by avoiding and eliminating risks.

Service request forms: Describe problems and issues in a detailed manner and send them to the right department to resolve them.