Optimize Package Tracking and Inspections
The packaging process involves a lot of paper work such as filling up inspection forms, checking inventory, providing transportation approvals, creating and sending out invoices if deliveries are involved and so much more! This requires proper organization and follow up procedures and therefore includes the use of several checklists. Using paper forms for this process results in several issues such as they are normally difficult to comprehend because of illegible hand writing and smudges. Furthermore one could miss out filling valuable information/Mandatory fields. Kizeo Forms can help you surpass these issues and digitize package tracking and package inspections. You can benefit from the various features of Kizeo Forms such as adding a geolocation, including barcodes, NFC Tags, adding digital signatures, checkboxes and so much more!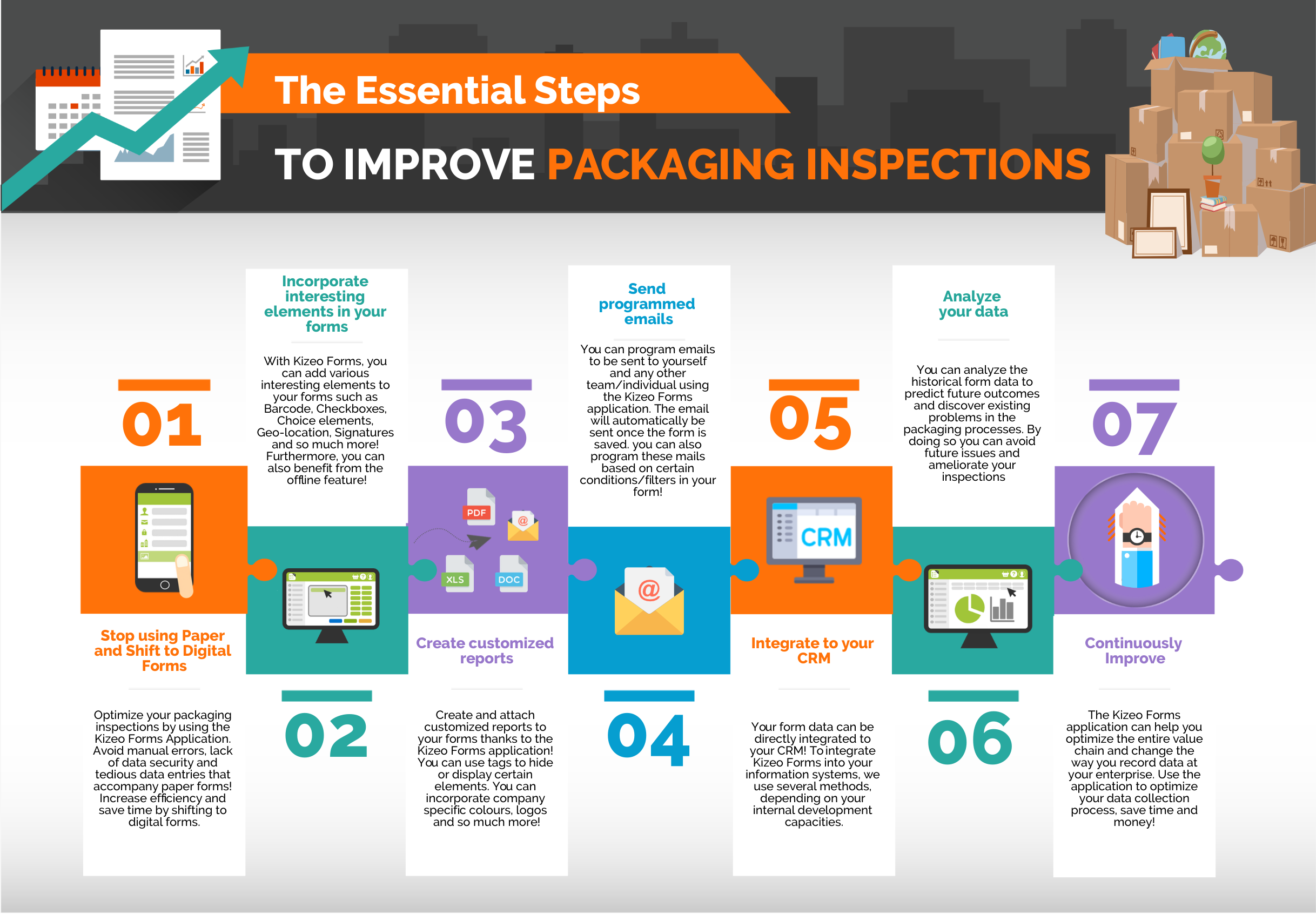 Benefits of shifting to the Kizeo Forms application
Save time
With Kizeo Forms you can avoid re-entering the filled form data on to your CRM/Business Process Management. The interface is simple and easy to understand. You can also send pre-filled forms and transfer them using the push option!
Save Money
The lost man hours because of transcribing paper forms has been costing several companies a lot of money! Avoid labor costs associated with paper forms as well as print and stationery costs with the Kizeo Forms application.
Integrate data
You can easily integrate your form data to your information system/CRM. There are several methods to achieve this (API, CSV, FTP, Kizeo Connector) depending on your internal development capacities.
Analyze data
With Kizeo Forms you can easily analyze historical data to identify issues as well as come up with business strategies for future improvements.
Save the environment
Make using Kizeo Forms a part of your CSR activity! Our users are continuously saving trees with every form filled by avoiding paper forms.
Secure your data
Avoid the issues of misplaced and destroyed forms associated with paper forms by shifting to Kizeo Forms to ensure that your form data is securely stored.
Automate and optimize your data collection process with the Kizeo Forms application!