Paper is an integral part of many companies' daily activities. Many companies refrain from going paperless fearing uncertainty about the results of digital methods. However, going paperless is important to effectively and securely manage information and stay ahead of the competition. In several enterprises, even today data is noted on paper documents and stores in file cabinets. A paperless office saves around 80$ per employee in a year.
Here are some key benefits of going paperless:
Ensure proper document management: You can centralize information using an enterprise solution and automate several activities through digital workflows.


Digital transformation is a key way of ensuring that your data is collected in an efficient manner and can be collected from any location from a mobile device.


Data can be transferred to the person concerned in real-time.


The incorporation of digital signatures on some apps ensures that your documents are legally binding and globally secure. Sign documents & contracts and build your business on the go and with greater efficiency.


Paper-based processes are subject to several manual errors resulting in loss of important information, transcription errors, miscommunications, etc. This can be easily avoided by using digital processes.


Time and money savings: Paper usage, re-transcriptions, data loss result in heavy expenses for enterprises. Furthermore, an employee collecting data on paper takes more time to finish his work than several automated uninterrupted apps. Paper-based processes waste time and prevent skilled workers from carrying out more valuable and productive tasks. Time spent by employees on these counterproductive tasks could result in significant costs to your business.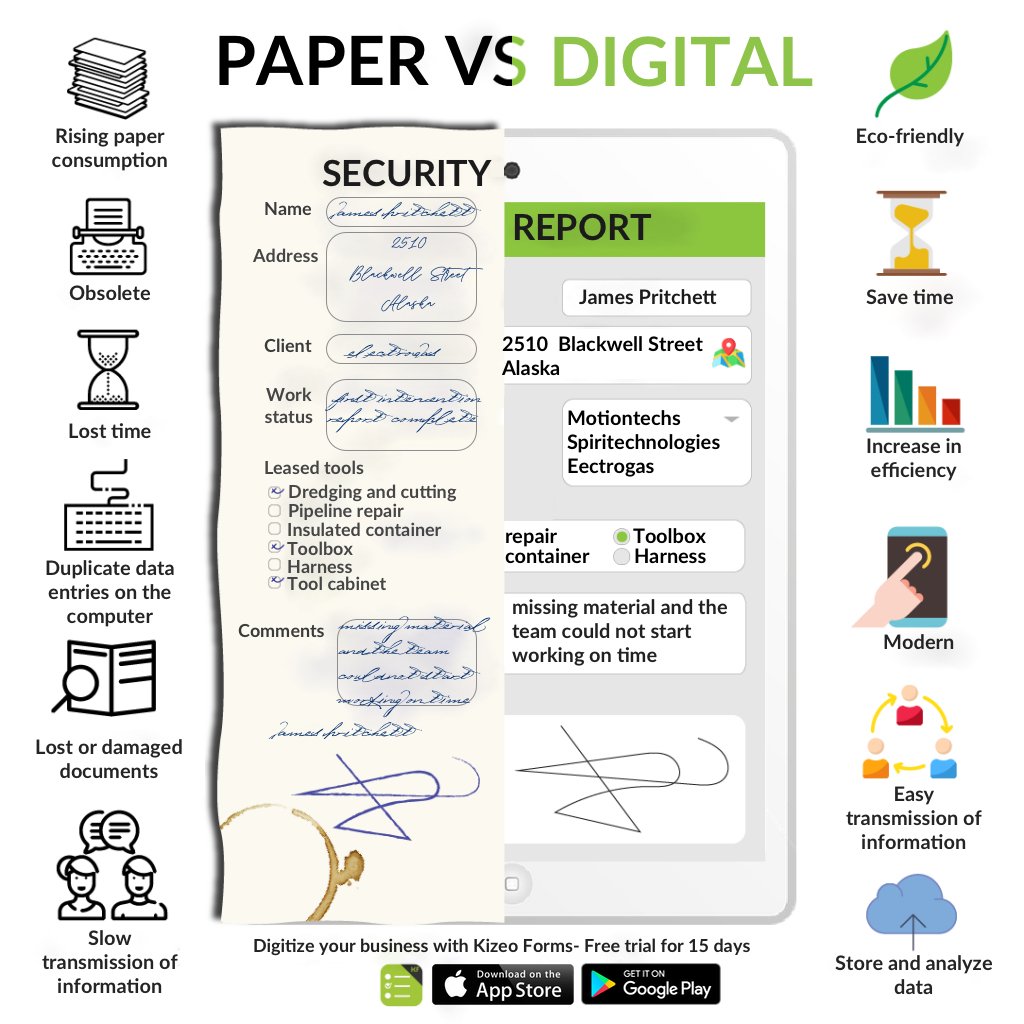 Save the environment by going paperless
On average, one tree can only produce 17 reams of paper and would take about 100 years to grow. Reducing paper use can have a direct impact on reducing the carbon footprint of businesses.
Everybody knows the importance of going paperless. The pain point is implementing a paperless enterprise. It is not something that can be done in a day and needs proper planning. Here are a few steps on how to get started:
Note down processes that are time-consuming and prone to several errors. There are several complex business processes in an enterprise. It is important to list them out to identify the ones which are prone to several errors and results in lost time and money.


Create a map or workflow for the process in detail. This helps you describe the process in detail identifying the areas where problems frequently occur. It can also identify solutions to overcome these issues.


Look for a digital solution that can help you put in place this workflow. It is important to find a solution that is tailored to your needs and permits customization.


Drive awareness and ask your teams and employees to test this solution. As several members are affected in a workflow, it is important that all these members test this solution. During this process, it is also very important to communicate why going paperless is good for the enterprise. This makes the employees more open to going digital as well as provides reassurance.


Deploy the solution. Once everyone has tested the solution and discovered the various benefits, you can go ahead and start the deployment and start digitalizing each process.


Measure the outcome. This step helps you measure the benefits of going paperless. It is important to measure the time savings and improvement in efficiency. You can also measure the reduction in carbon footprint after going paperless.
Kizeo Forms is an ideal mobility solution for all enterprises and across various industries. If you are looking for an app to automate your workflows test the app for free to see if it's the right fit for you. No credit information required, no engagements!
---
[su_animate type="flash" duration="1.5"]Are you ready to create your paperless enterprise?[/su_animate]
Create an account to test the Kizeo Forms App Free of charge for 15 days !
[su_button url="https://www.kizeoforms.com/createaccount.php?lang=en" target="blank" style="ghost" background="#a0c639" color="#000000" size="11" center="yes" radius="10" text_shadow="1px 0px 0px #ffffff" title="Etape Suivante" id="article_text_button"]Create an account[/su_button]
---
We are available to answer your questions, suggestions, remarks, etc