If you are in the agricultural industry, you are constantly trying to ensure perfect functioning of your tractors by constantly inspecting and maintaining the internal and external parts of the tractor to ensure it functions efficiently. Most commonly this is done on paper making it hard to comprehend and more difficult to send schedules and updates to the maintenance team resulting in lost time as the same data is then re-entered on a computer.
What if you could use a tool that can optimize this process for you? You can with digital forms! With Kizeo Forms, you can totally customize your forms to suit your needs. Furthermore, the form data can be easily integrated to your CRM. Spend less time filling reports and more time working on the field!
Furthermore, you can add elements to your forms such as taking pictures, adding signatures, creating checklists, scheduling emails and more!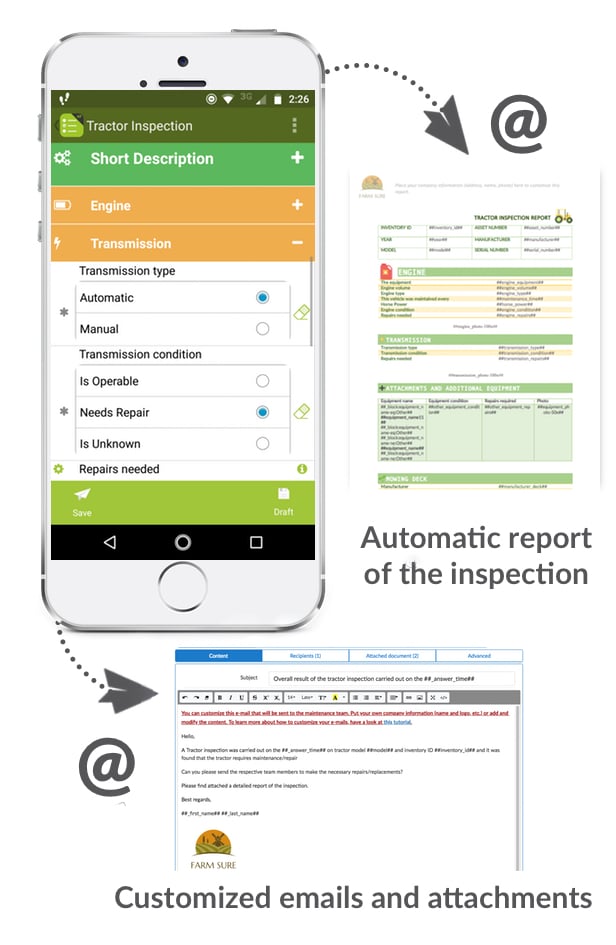 Discover some interesting features
The Choice element: Choose your input among options.
The list: Select the inventory ID from the list to automatically view the Asset number, Tractor Model, Manufacturer, Year of manufacture and Serial number on your form
The Slider feature allows to provide a rating for your inspection
The Signature will allow you to authenticate your report
The Photo: take photos of the inspection using your device or add them from your gallery
Send automatic and customized e-mail(s)
Once you fill out your digital form, an automatic and customized email will be sent to the maintenance team if some maintenance or replacements have to be made. The maintenance team will receive the email immediately with a customized attachment of the inspection conducted (for more details read our tutorial on customized emails).
A second email with a complete summary of the inspection will be sent to yourself for future reference. You can schedule several different types of emails to different recipients at the same time. Learn how!
Download The Tractor Inspection Form Template
Download the template from the platform by clicking the library button. Then select the English language, select the form Tractor Inspection Form and click the Add to my account button.
Remember that this from is a just a general template created by us and you can customize it to suit your needs. This provides a glimpse on the various possibilities offered by the Kizeo Forms application. You can also create your form from scratch!
Start a free trial now!
For 15 days, you will be able to create your own digital forms using a several smart elements such as photo, barcode, calculation, Signatures and more! There is no commitment and no credit card information is required. If you have any question on how to get started, our team will be glad to assist you by phone at +33 (0)4-90-23-67-60 or by email at contact@kizeo.com