The British Railways issued a joint investment report for 2020. The report states that around 140,000 services will be performed per week.
Regular rail inspections and maintenance are vital to ensure a safe journey for passengers. Using paper forms to perform these checks results in lost time and various errors.
Using a track inspection app helps you avoid manual errors, accelerate the inspection processes and increase workforce efficiency. The Kizeo Forms application is ideal to automate these inspections and ensure smooth functioning of your railway lines.
Track inspection app features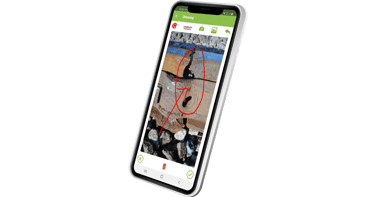 Tracking methods to identify track anomalies in real time:
Thanks to Kizeo Forms, inspection reports can be sent in real time to the relevant authorities. This enables the right technician to be sent to the right place and on time.
Proactive maintenance:
You can schedule regular inspections with the Kizeo Forms app. It is ideal for preventative and predictive maintenance. The app also allows you to send pre-filled forms to users to save a considerable amount of time.
Further more, you can use visibility conditions in the form. This helps the user filling out the inspection form to fill out only the necessary information based on his previous responses.
GPS and photos:
Automatically and accurately detect the location with a single tap on the app. You can also take photos and highlight areas with the drawing or sketch element. This helps you to easily mark areas where there is a defect.
Custom reports:
Create and attach custom reports to your forms. Once the form is filled out these reports can be sent automatically via custom e-mails to the desired recipient. The app offers various customisation possibilities to ensure the app is perfectly tailored to your needs.
Analytics and integrations:
The data collected with the app can be analysed to make key business decisions. You can also integrate the data collected to various analytics software, CRM etc via our API.
Automatic calculations:
Thanks to Kizeo Forms, you can perform simple and complex calculations automatically. You can incorporate your formulas within the form. The user can just enter the required information and the calculations are done automatically!
Digital signatures:
You can use this option to fill out signatures directly on the telephone and also ensure authorisation of the form.
Word from our customer
"Switch to digitalisation thanks to this application! It is easy to use, fast, no bugs, and updates instantly while changing forms." -Jerome L, Business Manager, Transportation/Trucking/Railroad industry