✅Plan, Control and Execute
Traffic management requires proper planning, control and execution. A lot of data is recorded to achieve and optimize traffic management. Recording this data on paper results in lost time as the same data is re-entered on a computer, there is also a lack of security and sometimes the written data is illegible and difficult to comprehend resulting in errors.
Kizeo Forms can help you overcome these issues and enhance your processes and increase efficiency! You can use the application for planning, managing, and executing projects as well as Traffic Control plans. The application helps you incorporate various interesting elements on your digital form such as checklists, signatures, date and time, geolocation, barcodes and so much more! Furthermore, you can also create and send personalised reports and emails and send them to multiple recipients.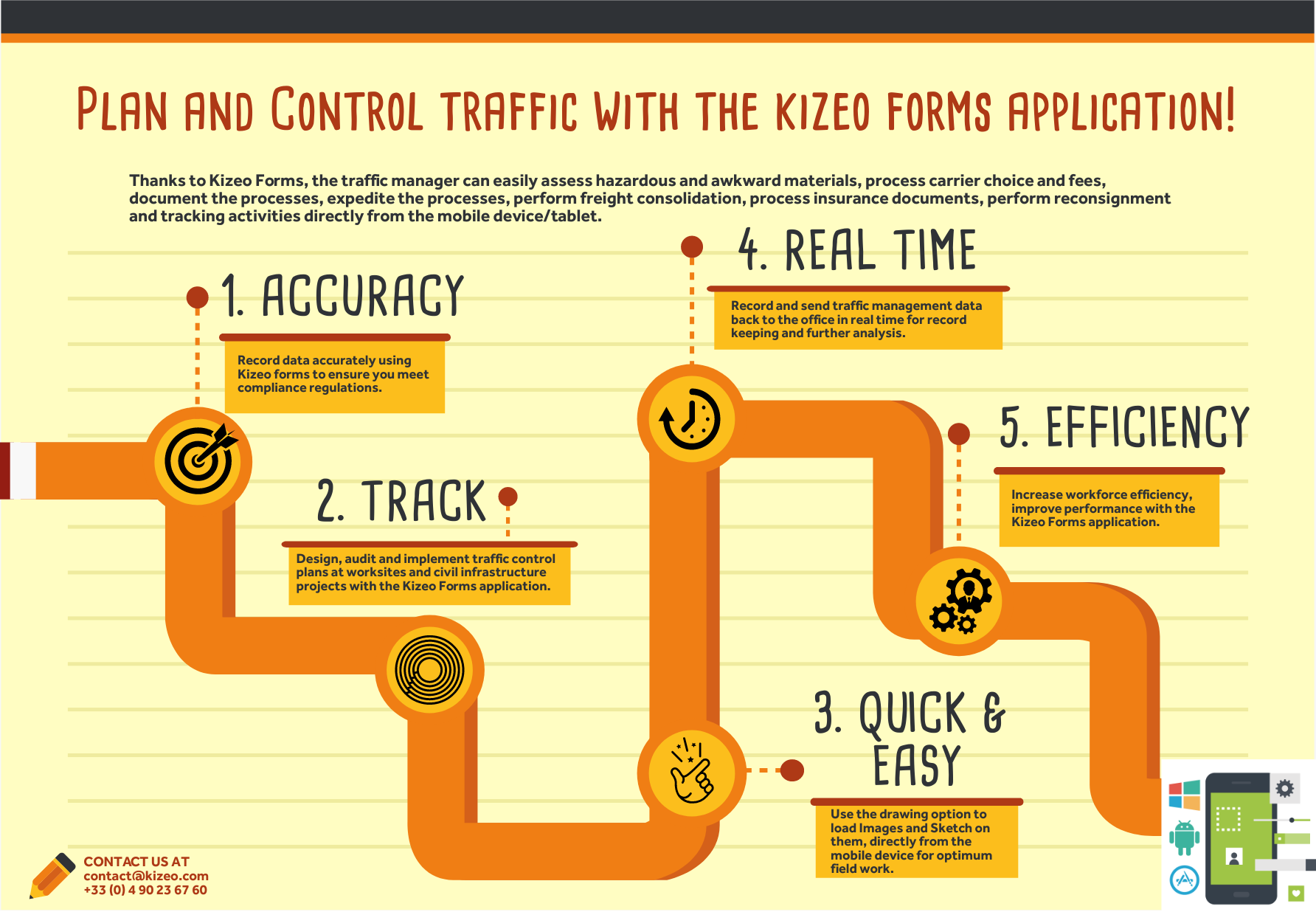 📲Digitalize Traffic Management
Hazardous freight Shipping
Use a checklist to to understand effective processes and compliance rules to safely ship hazardous substances.
Reconsignment and Tracking
Track and trace using the various elements at your disposal on the Kizeo Forms application.
Air, Road, Sea and Rail traffic management
The Kizeo Forms application can be used for Air, Road, Sea and Rail traffic management as it offers the felixibility to design forms that meets your needs.
Direct and control traffic
Direct traffic around a construction zone, accident or other road disruption quickly and easily with the Kizeo forms application. Create inspection checklists and transfer data in real time!
Improve Accuracy
Kizeo Forms can be used to record and transfer lane closures, freeway closures, pedestrian access, detours, traffic plans and sidewalk closures directly from the mobile device.
Use the Kizeo Forms application to save time, increase efficiency, automate your processes, centralize information and analyze your data while being ecologically responsible.