In order for the construction work to achieve the proposed objectives without any setback, it is necessary to carry out a proper monitoring of construction activities. Through active monitoring, you can control each of the actions that a team carries out and to check that they follow the marked course of action.
How to carry out the monitoring of construction sites?
Construction sites involve many factors that must be taken into account at all times, such as costs, personnel, equipment, legal documentation, blueprints and work output.
The professionals in charge of carrying out a construction project will be responsible for supervising these factors, monitoring the job site, daily logs and optimising all resources.
Once the budget and deadlines have been established, the construction professionals responsible for monitoring the work will have to constantly monitor the assignment of tasks and the development of the team to ensure that deadlines are met.
In addition, in the case of any unforeseen event it will be necessary to look for quick alternatives that have no impact on the overall development of the work or on the deadlines. Sometimes, good planning is not enough; it is increasingly necessary to use a construction management application.
It is in this context where the help of new technologies becomes especially important and comes to represent a great advantage.
Check out our COVID 19 Special: How to control the access of workers to the construction site?
Benefits of a construction work monitoring app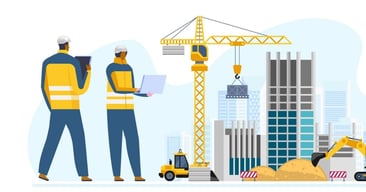 Construction software has been a major breakthrough, and thanks to this software, it is now possible to monitor the progress of a construction site and streamline each of the operational and administrative tasks.
As a result, monitoring construction sites has now become a more efficient process than ever before. With the mobile apps that currently exist for the construction world, communication is no longer a problem.
Processes can now be carried out in real time, on a platform where all the data is available simultaneously. You can also follow up on the work progress without even having to go to the physical site where the work is taking place. This makes it much easier to resolve any unforeseen events, assign work, manage resources and, in short, check that everything is on track.
In addition, construction management software allows data to be collected and analysed, making it possible to improve site management, optimise working time and minimise costs.
An evolution towards new technologies on construction sites
The construction industry has traditionally encountered communication and organisational problems that have hindered or slowed down work processes.
But in recent years, construction project management tools has helped in monitoring and managing construction projects. This is a revolutionary innovation that allows technical architects, general contractors and construction companies to manage and organise projects in real time. This saves time, labor and money for all parties involved.
The data needed to streamline the monitoring of works are now available in these management systems that have revolutionised the entire work process in the simplest way.
How Kizeo Forms can help in the monitoring of construction sites?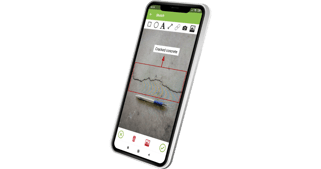 Kizeo Forms is a cloud-based construction software that has the necessary tools to record and track work. Its biggest advantage is the ability to create reports from the construction site.
It is fully customisable. It allows you to create digital forms that can be filled out from the mobile app, even without internet access. For example, your team members can fill out punch lists or a risk prevention report from their mobile device.
With this type of form you can accelerate your work, as it has an automatic report associated with it that is sent by email to the desired person. This way you can visit construction sites and renovations, record with text, photo, annotations in plan and digital signature. At the end of the visit, you click on send and the report is sent to the supervisor and the client automatically.
This not only speeds up the flow of information among your construction teams, but also ensures that all information collected is complete and available on the web platform for your internal use. You can access and export the data whenever you want, as well as connect it to your internal systems.
In addition, you can customise the information that appears in your reports according to the needs of your construction company, including the logo and corporate branding.
Tracking construction sites no longer has to mean slow processes, continuous unforeseen events and poor communication. Try Kizeo Forms and stop wasting time, money and manpower.