What are safety inspections?
Safety inspections are audits or inspections that are regularly carried out at a workplace. It helps identify and rectify hazards and ensure a healthy risk free environment for employees.
How to perform safety inspections?
Thanks to a mobile app like Kizeo Forms, you can perform your safety inspections directly from your mobile device. All you need to do is follow these simple steps: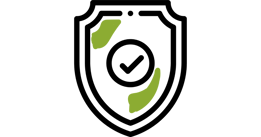 Define safety and hazard for your enterprise and produce a checklist of items to inspect. Define the regulatory standards to educate your employees.

Analysis and integration: Analyse the inspections and integrate the data collected to your business system or software of your choice with API.

Schedule regular inspections and assign a safety consultant

Record inspections on your mobile device, record hazards and attach photos.

Alert the right teams and eliminate the risk or hazard and put in place measures so it doesn't re-occur.

Ensure corrective actions are in place

Analyse the audit and ensure proper inspection management by regularly incorporating necessary changes.
Kizeo Forms: The top safety inspection app
Kizeo Forms is the top safety inspection app and is used by enterprises across the world to perform mobile safety inspections. It helps you ensure a risk free environment and put in place corrective actions when necessary. It is an app that helps you go paperless and manage your safety inspections directly from your mobile device or tablet. Reduce your safety report writing time by going paperless and get high quality customer service with Kizeo Forms.
Features to look for in a safety inspection app:
Geolocation: Locate the area of the inspection with a single tap to ensure your safety team reaches the area on time in case of high risk.
Photos & Sketch: Take pictures and highlight areas that indicate risk
Real time data transfer: Send information in real time and save valuable time.
Scheduling: Schedule future inspections and send pre-filled forms to your safety inspectors.
Reporting: Once the form is filled out send reports in the format of your choice and to the recipients of your choice. Define e-mail scenarios based on form responses and manage your enterprise safety on the go!
"The Kizeo Forms application is being used on a daily basis at our sites, by the security department as part of our audits and site visit reports, and by our staff who regularly conduct risk hunts. Just over 300 employees use the Kizeo Forms application every day. In just one week, we conducted more than 440 group risk hunts and identified and corrected more than 1,900 risk situations affecting our operations". -Christophe Auguste, Safety engineer at GCC