Nowadays, logistics and transport go far beyond the simple storage and movement of goods. They have become a core function of a company's operations. As a whole, logistics and transport include actions as varied and important as delivery and dispatch of goods, loading, and dispatching of trucks, recording of incidents, order management, tracking of shipments, fleet management, inventory management, warehouse control, proof of delivery and much more.
In order to optimise logistics and transport, it is essential to streamline processes, such as collecting data in real-time and controlling data streams. Failing to do so can have a negative impact on the overall activity of the company and other departments.
Moreover, this is a sector that urgently requires effective solutions such as saves time, better communication among the teams, and improvement of the supply chain set-up. The availability of transport management software (TMS) will be of great help to enterprises to overcome these challenges.

Why digitise transport and logistics management?
The logistics sector has become increasingly large and complex for many companies. This is not only true for large companies that provide transport or warehouse services to other companies, but also for small to medium enterprises that have to manage large volumes of stock or goods internally.
Parallel to the development and growth of the sector, there is also an urgent need for digitalisation in the sector, for the following reasons:
Transport companies need to adopt new tools in order to be more competitive and improve customer service, without increasing costs.
Digitalisation allows for optimal data collection and management, with all the associated benefits: fuel savings, route optimisation thanks to historical data, efficient stock control in order to meet customer demands, prevent perishable goods from spoiling, etc.
The switch to digital and automation systems is also essential to guarantee such basic aspects as securing the supply chain or being able to manage orders efficiently. A transport management app is a perfect tool to achieve this.
Digitalisation also brings additional advantages such as: centralising information, saving money on paper and working hours, having better control over transport vehicles, obtaining instant reports, or facilitating the sending of work orders.
How Kizeo Forms can serve as the perfect transport management app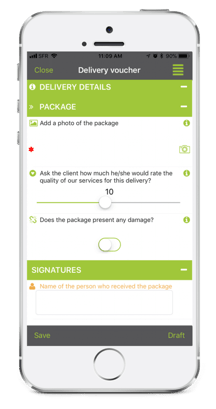 In the field of transport and logistics, Kizeo Forms can serve quite well for logistics and distribution, especially for streamlining and controlling local or regional delivery operations. As cloud-based software, it allows the creation of digital forms and automated reports. It also helps in assigning tasks to field staff and setting up information flows between mobile and office staff. Importantly, the software is flexible and customisable.
It has two powerful tools:
1. The web platform: from the computer creates and automates the documents to be filled in by the carriers, inject the database to be used, configure the reports you will receive automatically, and set up workflows.
2. The mobile application: this is the key tool for your freight operators. They will open their forms from their mobile or tablet to register their deliveries with the customer's signature, for example. This app is available on iOS and Android and works even without Internet access.
Examples of uses in logistics and transport
Specifically, Kizeo Forms helps you to digitise the logistics and transport management of your company or business in the following way:
Managing forms and reports such as:

Route start checklist (customised).
Route end checklist (customised).
Operations sheet for loading, dispatching and unloading of containers.
Collection spreadsheet, which allows you to automate and digitise the carriers' monetary accountability.
Attendance control sheet
Mileage records
Truck status checklist
Online rejections, which allow the driver to notify the rejection of an order to the interested parties (Sales).

Facilitating route management analysis by making use of the data collected.
With Kizeo Forms you can obtain geolocation at each delivery point. This information can be easily connected to Google Maps or Power BI to get a clear view of the route of your carriers.
Kizeo Forms allows carriers to receive their daily assignments in the form of a pre-filled form in their mobile app. This way, when they arrive at the customer, they only have to open the application and fill in the document. They can include essential information such as: digital signature of the customer, barcode, calculations (without human error as the app has automatic calculation), geolocation, photos and more.
Automating information flows:
Every form filled in from the mobile app is converted into a report. In this way, an automatic report can be sent instantly to the customer or to the staff in the office. It is worth knowing that this report can be 100% customised, e.g. with the company logo, photo size, and tables.
An example for logistics would be to be able to digitise the return process of delivered and returned products, leaving records of possible damages, customer dissatisfaction, or non-conformities of any kind.
These are some of the uses of Kizeo Forms for transport and logistics management. Just think about the processes that you currently use on paper and you will see how easily a flexible, customisable, and low-cost tool such as Kizeo Forms can digitise them. Improve your bottom line today by digitising with Kizeo Forms.
---
[su_animate type="flash" duration="1.5"]The perfect transport management app for business[/su_animate]
Create an account to test the Kizeo Forms App Free of charge for 15 days !
[su_button url="https://www.kizeoforms.com/createaccount.php?lang=en" target="blank" style="ghost" background="#a0c639" color="#000000" size="11" center="yes" radius="10" text_shadow="1px 0px 0px #ffffff" title="Etape Suivante" id="article_text_button"]Create an account[/su_button]
---
We are available to answer your questions, suggestions, remarks, etc