Data collection is a principal form of information flow in several enterprises. Capturing data is still principally done via paper in several enterprises. This has several disadvantages ranging from lack of data security to loss of time treating the information collected.
Today several mobile data collection apps are available allowing you to collect information in real-time and access information from anywhere. A simple step is to digitize these paper forms and convert them into simple mobile forms. This will enable field workers to collect information directly from their mobile devices.
Go one step further!
Automation is not just digitization. It is the digitalisation of various processes.
The Kizeo Forms app is the best data collection app for field workers. It is considered so because it helps you automate multiple processes, enables data sharing among team members and centralises information. To top this, your data is securely stored and accessible to the right person at the right time.
Data collection with Kizeo Forms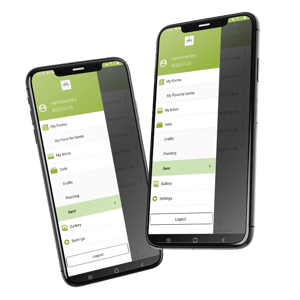 Customisation is essential to enable flexibility when it comes to data collection. The Kizeo Forms solution helps you create forms via a simple drag and drop form builder. You can add multiple smart form fields like geolocation, tables, drawing, slider, automatic calculations, electronic signatures etc.
Once the form is created, users can easily fill them out from the mobile app. The Kizeo Forms app can be downloaded from the Google Play Store or the Appstore. You can fill out information from the remotest areas without a connection to the internet (working offline). Once you are back in an area with an internet connection, the data will automatically be transferred to the concerned person.
You can create custom forms and reports as well as send custom emails with your company's branding. Once the records are filled out, the concerned individual will only receive the required information via email and custom reports in various formats (pdf, word, excel).
Some processes automated by our customers are safety checks, timesheets, expense reports, contact collection etc. It can also be used for something simple like creating mobile surveys, feedback forms and checklists of any type.
The flexibility provided by Kizeo Forms will help you get started with digitalisation and expand further towards digital transformation. Recording data cannot get any simpler!
Data is the most valuable resource to any enterprise. It can help companies pan out strategies for the future. The data gathered from the Kizeo Forms solution can be used as key performance indicators. It can be analysed to put in place improvement measures and help you increase efficiency, save time and improve ROI.
Some words from our customers:
"Kizeo Forms increases the speed of data transfer which means that we can react to situations on-site a lot quicker. Kizeo Forms is not just a contractor to us but a true partner. The versatility of the platform was something that we really needed. The product allows for a lot of flexibility and customisation."
- Gianluca DI FRUSCIA, Continuous Improvement Manager at Bouygues Energies and Services UK.
"I absolutely love Kizeo Forms, I use it every single day of the week. It is an integral tool as part of my role as an environmental advisor. I would be absolutely lost without it."
- Lucy Smith, Environmental Advisor at Balfour Beatty VINCI.