Impact of COVID19 in cleaning procedures for hotel rooms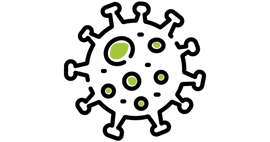 According to a research by UK Hospitality, The UK hospitality industry accounts for nearly ten per cent of UK jobs, making it the third largest industry by employment in the UK, employing 3.2 million people directly.
Given the current health care situation, it is imperative that safety measures be taken, particularly in the hotel industry. Procedures with less contact are required for maximum safety. This is where we recognise the importance of digitalisation.
A mobile application is therefore strongly recommended for collecting information and managing administrative data and processes. The Kizeo Forms application can be of great use to help you manage your daily activities.
What is the cleaning procedure for a hotel room?
The Kizeo Forms app helps you create forms and fill out information from any location. Cleaning processes can be managed with a single application. Here are some cleaning procedures you can manage with the app:
Ensure safety measures for COVID19 are in place:
Perform regular inspections to check if social distancing is maintained in public spaces. Easily manage high traffic areas, availability of masks, personal protective equipment and sanitiser at disinfection stations etc.
It is important to provide disinfectants in key areas such as hotel receptions, toilets, lift entrances etc. You can also ensure regular checks of public toilets, cloakrooms, lift, staircases and hallways.
The mobile app can be used to record information and maintain stock. An alert can be sent via a push or an email to the right person. This helps you ensure maximum safety and avoid risks.
Furthermore, using a sigle app to manage your activities helps you ensure you maintain a standard of cleanliness. Manage these standards across various hotel brands and hotel teams.
Paperless front desk:
Manage your guest directory, room bookings, key recovery, complaints and feedback directly on a mobile device or tablet. You can analyse the data collected and put in place the right measures. This helps you minimise contact while assuring quality service.
Room inspections and cleaning
Ensure deep cleaning with the use of hospital grade disinfectants and electrostatic sprayers. It is crucial that you do not forget important areas such as light switches, door handles and other commonly used areas.
Create a checklist to ensure you do not miss out important information. Fill out the information from the mobile device as you clean the room. Record the condition of the room, report damages and ensure cleanliness of the guest room for the next occupant.
Restaurant reservations
Manage reservations and avoid over crowding at restaurants by using the app to fill out and transfer information. Your guests can also have a look at the menu digitally and pre-book their meals.
Perform regular maintenance checks in the kitchen and availability of cleaning equipment for your team members. Ensure regular disinfection of cutlery, kitchen equipment and kitchen slabs.
Using the Kizeo Forms app you can assign the right employee at the right time to perform the inspection. Following this inspection, the manager can be informed if further action has to be taken.
Spa checks
Manage reservations by upgrading to paperless booking for your spa. Assign the right person to ensure disinfection and cleaning of spa equipment after each session. Share the policy and code to be maintained in the spa with the customer in advance to ensure they are prepared.
Numerous benefits with a single app
With Kizeo Forms, control the flow of information among various users. Furthermore, you have complete control over your data, benefit from data management customised to fit your needs. Create customised & dynamic solution for each user using visibility conditions.
Reduce workload on your teams. You have complete autonomy to create and define your digitalisation process. It is simple and easy to deploy with an easy step by step evolution to help you adapt and progress.
Get transparency and assurance that the information is passed on to the right person. Improve traceability and save time. The app respects data security, protection of personal information and various other data protection regulations.
How to get started?
Create your free trial account. Kizeo Forms offers a free trial period of 15 days where you can test all functionalities for no additional charge. Furthermore, you can add up to 10 users to test the solution.


Create you forms/checklists on the online platform, automate sending of emails and reports, manage users etc
Fill out information from the mobile device or tablet


Recover the data on the online platform, analyse the data collected and make business decisions.