Whether you are a high school teacher or a college professor, you spend countless hours working on student assignments and preparing lessons. Using digital forms can significantly improve the impact and efficiency of your work and help your pupils as well. Let's see the six reasons why you should start the school year with digital forms.
1-MONITOR THE PUPIL PROGRESS THROUGHOUT THE SCHOOL YEAR
Now, with digital forms you can obtain regular and accurate data and statistics on each student. You can compare their results in time on a particular assignment or subject, highlight their progress or the weak spots they need to improve.
2-USE SMART FEATURES
A complete set of smart features are at your disposal. Among them:
A checklist with your own marking criteria to put a grade on an assignment. This way, it is easier for the pupil to understand why he got this grade.
A photo of your original copy,
A Slider to easily rate or put a grade.
Create your own list of student groups to have detailed information on each one of them. Re-use those lists as many time as you want in different forms.
Send them customized reports and e-mails after each assignment. You can even add studying material as attachment (book references, essays and so on), depending on the student results.
The voice control option to dictate long comments or evaluation at the end of each assignment.
The Sketch option, which will be available very soon with Kizeo Forms, will allow you to take pictures and add comment and drawings on top of them.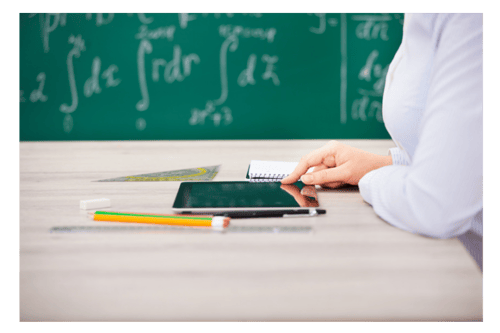 3-STORE YOUR DATA
The homework assignments corrected all year long as well as the student evaluations are safely stored and available at any moment. In case a parent, an institution or the student himself needs it to apply to a new school or university, those files can easily be sent.
4-SAVE TIME
Whether you correct assignments or evaluate the student's progress, you will save hours of work. You can access and work on those documents from anywhere on your cell phone or tablet. Create your own lists that you can access, share and modify in no time.
5-SHARE DOCUMENTS AND STATISTICS INDIVIDUALLY WITH EACH STUDENT
With the option to automatically send reports and documents, you can share your comments, advices and grades with each student individually. If necessary, you can share electronic documents, books or essays for your students to read and get ready for the next lesson or exam.
6-REDUCE THE AMOUNT OF PAPER
By digitizing your school work and occasionally your paperwork, no more need to carry copies and heavy school material. Plus, you will reduce your paper budget and encourage the students to use more modern tools.