Who is an original equipment manufacturer?
An original equipment manufacturer (OEM) is a manufacturer that produces components and materials that can be sold by another manufacturer.
A company that produces automobile parts such as engine and batteries is an example of an OEM. These parts are later put together and sold by car manufacturers. Several other examples can be seen in the software and hardware industry.
Why are mobile forms for Original Equipment Manufacturers important?
An article by GE digital states that the progression of technology such as IoT & AI has opened new opportunities for OEMs. Theses opportunities help drive revenue and improves workforce efficiency. Putting in place these new technologies is not easy and cannot be done in one go.
GE suggests to proceed with minimal viable changes. These are tiny least jarring changes. Mobile forms such as Kizeo Forms that can help you go paperless is one such example of a minimal viable change.
According to a research by PWC, Companies expect investment in digitisation to reduce costs by 3.6% and increase revenues by 2.9% per year through 2020.
Use of Mobile forms for Original Equipment Manufacturers
Kizeo Forms can be used in OEM's across various steps in the value chain. It is an application that helps you design 100% customisable forms to collect data and manage workflows. Here are examples of some situations where Kizeo Forms can help you automate processes: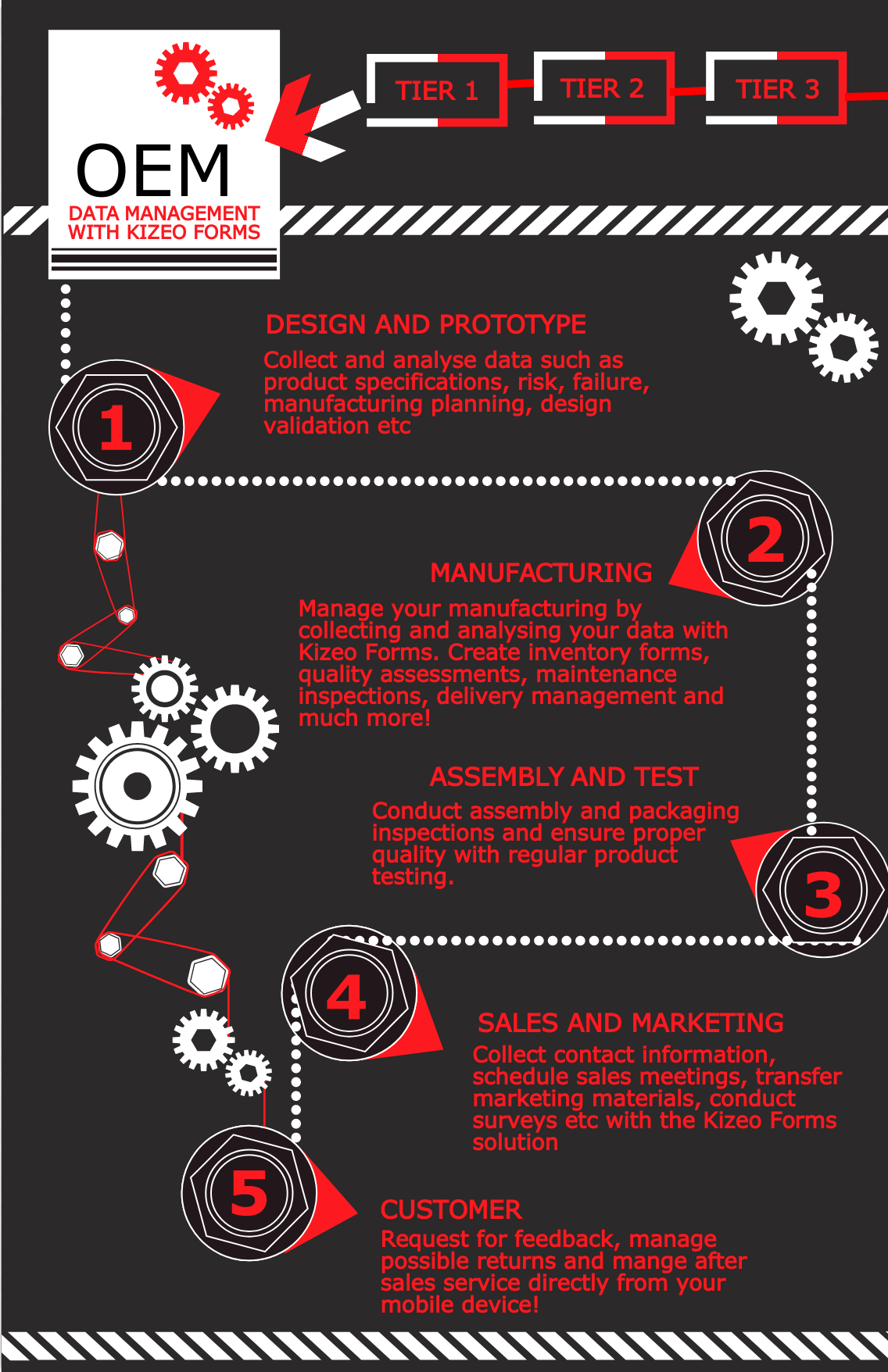 Product Design validation: During the alpha, beta phase you can collect and validate information with respect to manufacturing planning, design validations etc. This can help you ensure the perfect OEM product.
Risk management: Conduct regular risk inspections and make a note of existing risks. The data collected can also be used to mitigate future risks. Take corrective actions when and where necessary.
Quality analysis: Perform quality inspections and ensure your final product/ OEM parts are of perfect quality.
Supply chain management: Manage data collection throughout the supply chain. Perform 5s audits, manage interventions, manage inventory, product deliveries etc.
Maintenance inspections: Perform preventative maintenance, ensure the right replacement parts are available to the right person at the right time.
Product testing: Conduct regular inspections on your final product to ensure it is exactly as designed. Note down feedback and use them for future developments.
Contact management: Record customer information, conduct surveys and manage data collection for your sales and marketing processes.
Returns and feedback management: Manage returns of faulty products, service management requests and more! There are no limits to the use of Kizeo forms when it comes to data collection.
Features to get you going..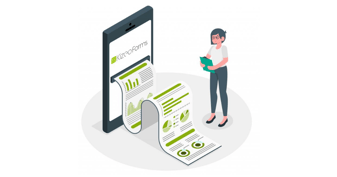 Barcode scanning and NFC tag reader: This feature can be used to maintain inventory, manage deliveries, perform quality checks etc.
Digital signature: This option is ideal to authorise and approve information on the go.
Geolocation: Record exact location and obtain a timestamp for all your inspections and audits.
Photos: Record and transfer visual information by just using your mobile device or tablet to take and attach pictures.
Drawing, Sketch: Highlight areas on the photo. You can also add information on the photo to directly incorporate as a line in a table.
Calculation: Perform simple and complex calculations automatically to help you save time while collecting numeric/mathematical information.
Data import/export: Import existing data into your forms. You can also export the data collected in various formats (pdf, excel, email, word etc).
Integration: The data collected can be easily integrated to various software, CRM, ERP etc with our API.
Offline mode: Collect data from the remotest areas thanks to our offline mode. Once you are back in an area with connection, the data is automatically transferred to the desired recipients.
What our customers have to say...
"Because of the Kizeo Forms application, we use less paper. There is no more typing from the paper to the computer. The application is easy to implement and the table element is my favourite and corresponds to my usage"

Mathilde Morin, Quality and SERE Manager
Would you like to have more information on how much time and money you can save at your enterprise? Check out this white paper.