Real estate agent's work largely involves mobility. It involves time-consuming administrative and operational activities. Fortunately, today our phone can become a valuable tool. Simply use the right real estate agent application, simplify processes and maximize turnover!
There are many types of applications on the market. For example, to measure areas, create plans, sell properties, CRM and edit photos. Also, there are others that simplify operational and administrative work. Its greatest strength is its rapid implementation. They are several apps for real estate agents who want to manage visits, inspections and reports. Among this group of applications is Kizeo Forms.
This type of tool aims to facilitate real estate management. It is low cost and serves to complement a CRM or to replace it. It is important to know that they are not made to create websites or sell online properties. They are rather a solution to control the registration of activities, generate reports and speed up the flow of information. In this sense, they serve real estate agents, as well as maintenance and administrative personnel.
Do you need to register your visits and send a report to the owner? Do you need to do a rental/home inspection? Do you need to carry out an inventory of the properties to be offered? You can do it all with the real estate management apps.
To be precise, what can a Real Estate Management app do?
- Create digital/mobile forms
An application for real estate agents will allow you to create forms according to your needs. You can fill them out from your mobile or tablet thanks to the mobile app. Some examples are:
Forms for obtaining property

Property Visitation Records

Construction reports

Inventory

Quality control of services

Prospection sheet

Contact Forms

and more.
If you're wondering how forms are created and what information can be included, we'll explain it here:
The app allows you to create forms from the computer. In the case of Kizeo Forms, you must register and login to the online platform. You access the form creator. With the " drag and drop" method you can design your form.
You can choose between the following fields: text, multiple selection, taking photos, electronic signature, adding a map, blueprint importing your database, among others. You can also activate authentication and validation of the information.
- Register your site visits
By logging into the online platform, you will be able to access the newly created forms. You can start recording a visit in real time, for example from the mobile application. In other words, with these forms, you can be very professional in customer service. The best feature? You have the option to co-sign visits on site (the app works without internet).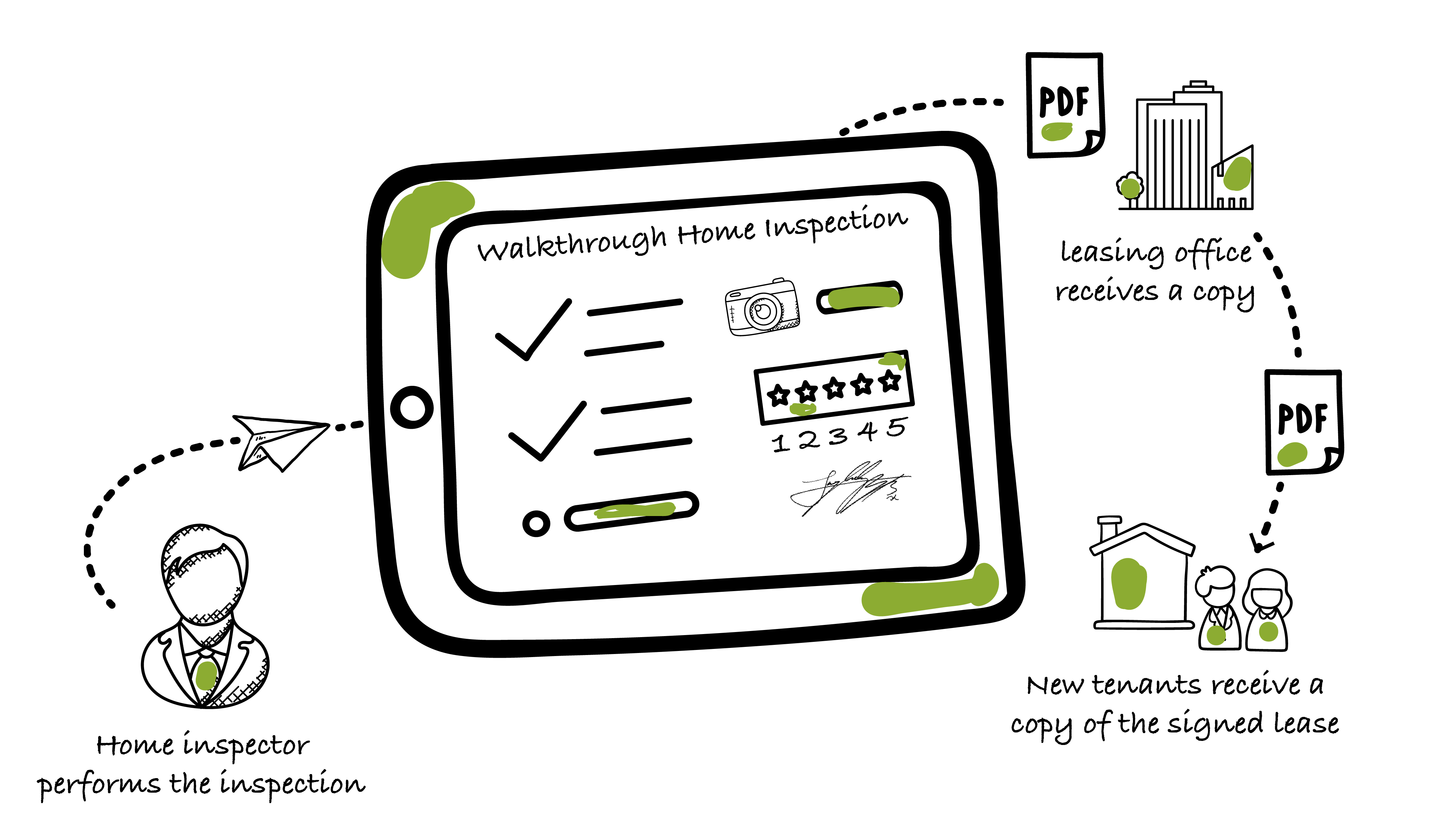 In addition, at the end of registration, all you have to do is click and a report will be sent to the owner in real time. You can configure this automated transmission via email and customize the report.
- Notify Real Estate agents of upcoming visits
If you manage a team of real estate agents, an application like Kizeo Forms will be of great use to you. Imagine you are in the office planning the property visits for the week. You access Kizeo Forms, assign the property visit form to your staff and you're done! Your real estate agents on the site will be notified by phone. Important: you will be sending them a pre-filled form so that the work is faster and with fewer errors. The aim is that they can work with a practical and easy to use tool.
These processes are just a sample of what you can do with a real estate management application. The principle of going paperless with digital forms is simple and accomplished with Kizeo Forms. Forget about working with endless mail chains. Say goodbye to having to arrive at the office to sort through your reports and inspections.
+ More
The most advanced applications offer integration with your internal systems and platforms. In this way, everything you collect, you can integrate and centralize. Have total control!
If you want to try Kizeo Forms, you can. Register and start your 15-day trial period. It's totally free, with no commitments or bank details. You will have access to the web platform (computer) and the mobile app. You will first log into the web platform and create your first form. Then download the mobile app, which is available on iOs and Android.