Information gathered from the field is a valuable source of information for your company. Therefore, it is essential not to overlook the collection and storage of this information. After all, no one is unaware of the Latin expression: Once spoken, gone; Once written, eternal. This is why Kizeo Forms is the application you need to facilitate reporting from the field!
Field reporting is a fundamental asset!
Throughout the duration of a project, the technicians are in direct and permanent contact with the customers and the field situations. They therefore have access to extremely useful data for the sales development of your company. They are unquestionably the first to identify:
Possible defects in the implementation of safety measures implemented at the construction site

Technical difficulties in the progress of the work, such as a machine breakdown

Complications with the client or the contractors of the construction site
The technicians' experience and seniority are undeniably important strengths. They allow them to be very autonomous on the building sites, which is of course a major asset in the rapidity with which the commissioned work is carried out. However, these strengths are not necessarily sufficient to facilitate the transfer of information from the field, especially if the latter, although organized, cannot be done in a simple way.
Make real-time reporting a reality!
The first step to stay ahead of your customers is to automate the work orders, work reports and work sheets. Give your decision-making chain the ability to access field data in real time. Construction sites are rarely located near one of your agencies. Based on this observation, it is reasonable to be able to react quickly by digitising all your administrative documents (time sheets, lifting of reserves, work reports). Kizeo Forms, the application for field feedback from technicians, allows you to do this and much more. By using digital forms instead of paper work orders, you will :
So are you ready to make data collection a major asset for your business?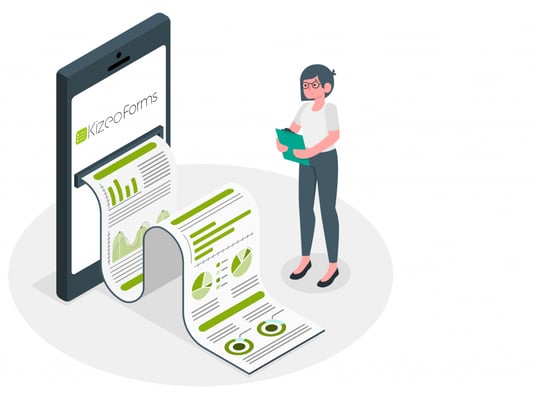 Don't have an account yet?